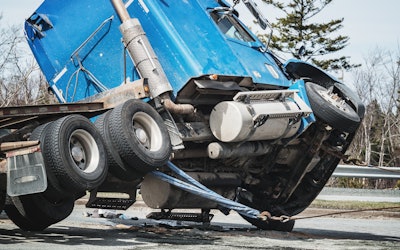 The term "nuclear" joined the lexicon of the transportation industry in the last decade as insurance costs have been rising from runaway jury verdicts.
In a June 2020 report, the American Transportation Research Institute (ATRI) counted a 967% increase in the average size of verdicts, from $2,305,736 in 2010 to $22,288,000 in 2018.
CCJ Symposium: Time to Transform
Future-proofing your fleet operations for the road ahead
Join us in person at the the 2021 CCJ Symposium, August 9-11, in Birmingham, Ala. CCJ Symposium assembles fleet executives, thought leaders, industry analysts and leading suppliers to give you concrete action items for trucking's most pressing issues. We'll have multiple sessions to talk through how to:
Transform Your Operation
Transform Your Equipment
Transform Your Workforce
Don't miss what might be your first chance in a long time to collaborate and socialize in-person with your peers at the picturesque Renaissance Ross Bridge Golf Resort & Spa.
The Reptile Theory approach is often used by the plaintiff's bar. When deposing the truck driver involved in the accident, the line of questions from the attorney is aimed at getting the driver to claim ignorance of certain regulations or training they have received by their carriers.
For this reason and others, driver training is not a one-time event, argues Mark Murrell, co-founder of CarriersEdge, a provider of online driver training for the trucking industry. "An effective program instills in drivers and employees alike a sense that safety is not only a significant part of the company's culture, but also an ongoing process," he said.
Another cornerstone of effective safety programs is to provide regular feedback and measurements to employees and employers that show whether or not the approaches being used are effective in terms of improving safety performance, he noted.
"When companies face liability claims, the ability to produce records demonstrating a serious, concerted effort in safety training can significantly reduce the amount of a potential settlement," Murrell said.
Getting down to business
During the CCJ Symposium, Aug. 9-11 in Birmingham, Alabama, a three-member panel of fleet safety executives from Payne Trucking, Boyle Transportation and Smith Transport will share the approaches they are using to combat the legal risks of trucking.
Chris Haney, director of health, safety, security, environment (HSSE) and human resources at Payne Trucking, has revamped the fleet's driver training program over the past year. The Fredericksburg, Virginia-based company has a niche in dry bulk and hazardous materials transport with more than 800 end dump trailers, dry vans and storage containers powered by a fleet of 130 tractors.
[Related: How Payne Trucking quickly adapted its driver training to work during a pandemic]
Payne Trucking is using the Luma eNugget learning management system (LMS) that comes with a collection of more than 750 courses on various orientation, safety and compliance topics in mixed mediums. As an added layer of training, Payne Trucking sends periodic "safety flashes" to educate drivers and document their awareness when management sees incident or accident trends developing.
"Not only am I getting proof that drivers have received [the training] and completed it, but more importantly from the liability side, there is a realized level of comprehension, and that is priceless," he said.
Boyle Transportation uses a methodical hiring and training approach that focuses on the learning needs of the individual driver. The Billerica, Massachusetts-based company specializes in high-value and high-security freight markets with customers in defense, life sciences and radioactive materials industries.
"We try to hire the best of the best," said Michael Lasko, manager of safety and quality.
All driver hires, regardless of previous work experience, go through a comprehensive five-day orientation training program. "We really invest in the people we've hired," he said. "Our focus is making sure drivers are equipped with all the tools they need to succeed."
[Related: Fleets use technology to individualize training for driver needs]
During orientation training, drivers get hands-on instructions for specialized equipment, regulations, hours of service and fatigue management, company policies and defensive driving using the Smith System.
After orientation, drivers are paired with mentors – tenured drivers they can contact any time they need help with policies or procedures. Drivers are provided a reference manual of company policies and customer-specific instructions. The manual also has an online version that drivers access through Boyle's proprietary company app.
For ongoing driver training, Boyle identifies specific needs based on the feedback of driver mentors, from fleet personnel in operations and safety, and from a video-based safety system.
The training assigned to each driver could be hands-on from CarriersEdge or simply a conversation. "It's all about equipping drivers with the tools and skills they need to succeed," Lasko said. "Everybody has different learning styles. We take that into consideration. Some respond well to online training, some not so much."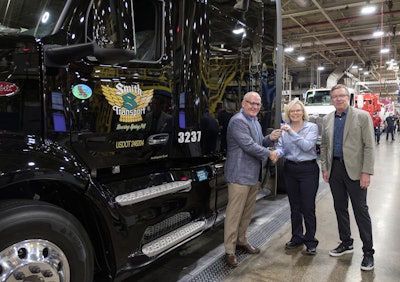 Eric Nelson, vice president of safety and recruiting at Roaring Spring, Pennsylvania-based Smith Transport, rolled out a new video-based driver safety platform across the company's 900-truck fleet last year.
[Related: Racing into 2020: Smith Transport shifts strategies to fast-track growth]
Motor carriers that use advanced safety technology, particularly video-based telematics systems, have been able to manage a constant flow of information to address risky driving behaviors proactively.
The SmartDrive system that Smith Transport uses from Omnitracs gives driver trainers a dashboard that "really tells the story" about drivers and critical safety events to manage accident risk proactively, Nelson said.
The SmartDrive system calculates safety scores that represent the observed rate of risk for every driver based on numerous behaviors such as speeding, following distance and aggressive maneuvers. The scores are normalized by hours and miles driven. The higher the score, the higher the collision risk.
"What we are trying to do is coach the driver, mitigate risk and change behaviors before it becomes a collision and a terminating offense," Nelson said.
Visit this site to see the full agenda of the CCJ Symposium and register to attend the in-person event in Birmingham, Alabama.