With strong freight demand and high rates in recent months, several top carriers are increasing pay to help attract new truck drivers and sweeten the pot for current drivers.
Averitt Express (CCJ Top 250, No. 28) is increasing pay for all regional truckload dry van and flatbed drivers, with additional raises based on hazmat certifications for some drivers.
Starting Tuesday, June 8, all regional truckload dry van drivers without a hazmat endorsement will start at 52 cents per mile and average $1,200 in five days, with an estimated annual compensation of $62,400 per year. Regional truckload dry van drivers with their hazmat endorsement will start at 55 cents per mile and average $1,350 in five days, with an estimated annual compensation of $70,200 per year.
Regional flatbed drivers will start at 57 cents per mile and average $1,440 in five days, with an estimated annual compensation of $74,880 per year.
Additionally, all qualified regional truckload drivers will receive a $5,000 sign-on bonus for a limited time.
In addition to mileage pay, regional dry van and flatbed drivers earn additional pay through Averitt's "More Than Cents Per Mile" pay package, which includes minimum mile pay, per diem, layover, multi-stop and detention pay, plus additional amounts for assisting within Averitt's LTL linehaul network.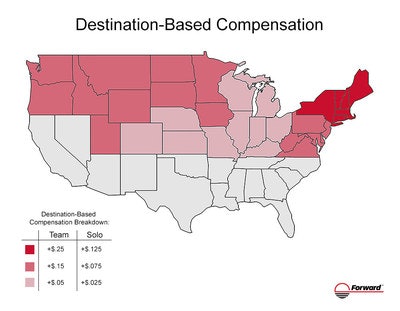 Forward Air Corporation (No. 33) is offering a new destination-based pay increase for its fleet partners within its LTL and Truckload divisions. The destination-based model provides additional compensation to team and solo owner operators based on the destination of their load.
"We are excited to make this adjustment, as it helps level-set supply and demand," said Tim Parker, Forward Air senior vice president, Linehaul Logistics. "Some areas of the country are less attractive for drivers due to factors such as urban road congestion, crowded fuel stops, limited parking or frequent road construction. These factors can lead to reduced utilization and higher equipment maintenance costs. The destination-based compensation increase will help offset those additional costs."
The destination-based compensation increase comes after the company implemented its largest ever rate increase for leased owner-operators in March. Forward also offers a lucrative sign-on bonus program to help drive first year profitability for transitioning owner-operators or fleet owners. The bonus consists of $10,000 per team truck and $4,000 per solo truck added to the Forward fleet – all paid out in the first year of service.
Paper Transport (No. 112) this week increased driver pay in regional positions between 8% and 25% across its Midwestern and Southeastern operation area.
The company's goal was to get a number of its base compensation mileage rates to 60 cents per mile for drivers who run regionally and are home on a weekly basis.
Eighty eight percent (88%) of its regional drivers will be at 60 cents per mile or above including drivers who reside in Florida, Georgia, Illinois, Missouri, Ohio, Oklahoma, and Wisconsin.
Millis Transfer is increasing pay by 5 cents per mile for new and existing drivers. The new raise comes in the form of an additional 2 cents per mile added to base pay and an additional 3 cents per mile toward the weekly mileage performance bonus.
A pay raise has also been added for Millis Training Institute trainees, who attend MTI, a top accredited CDL-A school that consistently graduates hundreds of well-trained students every year.
MTI trainees can expect to earn 44 cents per mile when on the road with their driver trainer. They will then receive an additional one cent every quarter during their first year of employment.