Trucking news and briefs for Thursday, June 17, 2021:
NTTC names Tank Truck Driver of the Year
For the third time in four years, the longtime company driver Ronald Baird, from Thorntown, Indiana, was nominated for the National Tank Truck Carriers' Professional Tank Truck Driver of the Year award. The driver for G & D Trucking/Hoffmann Transportation finally won and was presented with the award at the NTTC's conference this week in Indianapolis.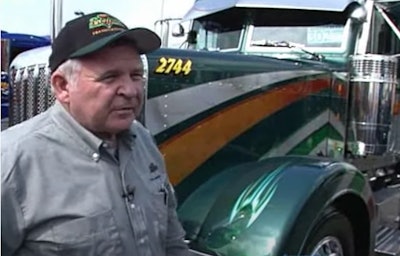 Baird was among the nominees for the award that was to have been given last year. However, that was, like so many other things in 2020, postponed by the COVID-19 pandemic, and given at this year's gathering.
In his acceptance speech, Baird said winning the William A. Usher Sr. Award was like receiving "a lifetime achievement" honor. And, what a driving lifetime it has been for the 75-year-old, who delivers plastic pellets used to make cutlery for Walmart. Baird began his professional driving career as an 18-year-old owner-operator with a 1960 International Harvester Emeryville. Since then, he has:
Driven for 57 years, 55 of which were as a tanker driver
Spent 34 years as an owner-operator
Logged almost 7.2 million safe miles
Won 183 custom show truck trophies
Operated heavy equipment during a two-year hitch with the Navy
Spent two years hauling high-end classic cars
All that time, Baird said his focus has been on safety, and for good reasons.
"My goals and the goals of other tanker drivers are to protect the motoring public, protect the reputations of the tank truck industry and our individual companies," Baird said when accepting the award. "I know in a split second I could lose the privilege of doing the job that I love."
He added that his goals each day are to "drive like a professional, dress like a professional, treat everyone with kindness and courtesy and improve the image of tank truck drivers."
The award's winner was announced by the 2018-2019 winner, Barbara Herman, a driver for K Limited Carriers. The award is sponsored by Great Western Casualty Insurance Company.
The other award finalists included:
James W. Ellis, Sr., Grammer Industries, Inc.
Ronald Evans, Liquid Cargo, Inc.
Darrien Henderson, J & M Tank Lines, Inc.
Alen Smailovic, Highway Transport
Abdul Standfield, Quality Carriers, Inc.
Edward Stasyshyn, Trimac Transportation
Tony Stinnett, Usher Transport, Inc.
Waymo raises $2.5 billion in funding
Waymo, the self-driving unit of Google's parent company Alphabet, announced this week it raised $2.5 billion during its latest investment round. The announcement comes less than a week after Waymo and J.B. Hunt announced a partnership that will see the carrier move freight autonomously in Texas using the Waymo Via platform.
Participants in this latest round of funding for Waymo include: Alphabet, Andreessen Horowitz, AutoNation, Canada Pension Plan Investment Board, Fidelity Management & Research Company, Magna International, Mubadala Investment Company, Perry Creek Capital, Silver Lake, funds and accounts advised by T. Rowe Price Associates, Inc., Temasek, and Tiger Global.
Through Waymo's delivery business unit, Waymo Via, the company is working with freight partners, including J.B. Hunt, to efficiently move freight cross-country with its growing fleet of Class 8 trucks. On a local level, Waymo Via is delivering safely and efficiently on behalf of the company's clients, including UPS and AutoNation.
Plus autonomous trucks to haul anti-climate change equipment
Self-driving truck tech provider Plus is partnering with Schmidt Futures-supported Good Machine on a pilot to help move equipment for sustainability efforts to address wildfires, food insecurity, illicit wildlife poaching and illegal fishing.
The partnership kicks off immediately with Plus's autonomous truck hauling equipment from Winnemucca, Nevada, to South San Francisco, California, to be used for a wildfire detection project in California. Additional hauls will take place over the next year of the pilot program.
"Sustainability is part of the core mission for both Plus and Good Machine," said Shawn Kerrigan, COO and Co-founder at Plus. "By joining forces, we are creating a win-win-win for our companies and the environment. Plus is delighted to serve as an enabler of Good Machine's inspiring sustainability efforts by using our fuel-efficient autonomous trucks to transport the equipment and supplies needed to launch these projects."
Old Dominion takes possession of Ride of Pride Freightliner