Trucking news and briefs for Thursday, July 15, 2021:
Teamsters score first win at XPO
Following a years-long battle, workers at XPO Logistics (CCJ Top 250, No. 6) in Miami, Florida, voted unanimously on Saturday, July 10, to ratify the first Teamsters contract at the transportation and logistics giant.
"XPO management said workers in the U.S. would never ratify a contract, but never is now," said Jim Hoffa, Teamsters General President. "I applaud the workers who stood strong and united over the past six years, despite the company's horrific anti-worker actions and delays."
The drivers and dockworkers at the former Con-way Freight voted to join Local 769 in December 2014. While thousands of workers at XPO in Europe belong to unions, this is the first ever Teamster contract at the company.
The contract includes "just-cause" protections, a grievance process, successorship language, job protection language and retirement protections, among other improvements.
TuSimple partners with lidar developer
Self-driving truck technology company TuSimple has partnered with lidar developer AEye to help develop its autonomous technology.
TuSimple is working with Volkswagen's Traton Group to develop a commercial-ready fully autonomous system for heavy-duty trucks, and is co-developing Level 4 self-driving trucks with Navistar, targeting production in 2024.
"TuSimple has the world's most advanced autonomous driving system, with the industry's best long-range perception," said Chuck Price, Chief Product Officer at TuSimple. "AEye's adaptive LiDAR complements our solution, with its ultra-long range, high performance enabling object acquisition and avoidance capabilities at highway speeds that are imperative for safe autonomous trucking implementations. AEye's software-configurable hardware enables us to utilize a single sensor for both low speed, wide field-of-view cut-ins and high speed, long-range, small object detection – flexibility that is incredibly powerful for addressing the wide scope of trucking corner cases."
AEye's lidar has a 1,000-meter range. It delivers more than twice the range and over two times the resolution of any other long-range lidar, the companies said.
DAT: Van, reefer spot rates up so far in July
The weeks leading up to Independence Day typically mark an annual peak in spot truckload freight volume and rates following a rush to move goods ahead of the close of June and the July 4 holiday.
While last year was an exception, 2021 is starting to follow a more typical pattern, albeit at elevated levels. According to DAT Freight and Analytics, spot rates for van, refrigerated and flatbed freight are on average 70 cents per mile higher than at this time in 2020 and nearly 76 cents higher than the five-year post-July 4 average.
The number of available dry van loads on the spot market was down 17% during the week ending July 11, in line with expectations given the holiday-shortened workweek, DAT said.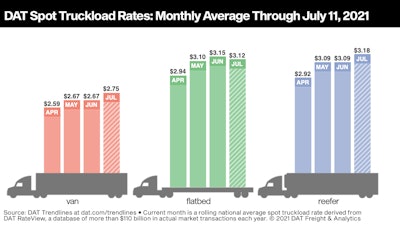 Van equipment posts also declined as truckers took time off for the holiday. The national average van load-to-truck ratio narrowed from 6.7 to 6.1 and the national monthly average van rate through July 11 was $2.75 per mile, 8 cents higher than June.
Contract van rates are on the rise, with new routing-guide rates up 7% in the two weeks ending July 1 compared to the prior two-week period. The average contract van rate is now 37 cents higher than this time last year.
The national average spot reefer rate through July 11 was $3.18 per mile, 9 cents higher than the June average. The number of available reefer loads fell 17% compared to the previous week and, with 2% fewer equipment posts, the national average reefer load-to-truck ratio edged down from 14.2 to 12.7. Demand for trucks is expected to ease in the coming months – between July 4 and Thanksgiving, weekly truckload volumes of produce typically decline an average of 21%, which translates to carriers hauling 7,300 fewer truckloads per week by the end of November.
With fewer load and equipment posts last week, the national average flatbed load-to-truck ratio fell from 49.7 to 44.1. The average spot flatbed rate slipped to $3.12 a mile through July 11, down from $3.15 in June.
Women in Trucking seeks award nominees
The Women in Trucking Association and Freightliner Trucks are seeking nominations for the 2021 Influential Women in Trucking award.
Over a decade ago, the award was created to honor women in the transportation industry who make or influence key decisions in a corporate, manufacturing, supplier, owner-operator, driver, sales or dealership setting, have a proven record of responsibility, and mentor and serve as a role model to other women in the industry.
Nominations will be accepted through Sept. 1. The winner will be announced at the WIT Accelerate! Conference & Expo in Dallas on Nov. 7-9. Each finalist will be asked to serve as a panelist for the "How Remarkable Women Unleash their Leadership Potential" panel discussion.
Last year, in an unprecedented tie, Kristy Knichel, CEO of Knichel Logistics, and Jodie Teuton, vice president, Kenworth of Louisiana/ Hino of Baton Rouge and Monroe, received the recognition in honor of their outstanding commitment and service to the industry.