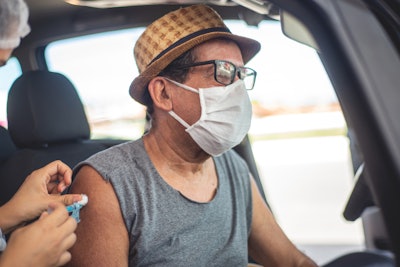 Many surprising things have happened in the last 19 months, but the number of people currently sitting on the labor pool sidelines is one I would have never seen coming.
According to the Bureau of Labor Statistics, the labor participation rate is sitting at near record levels – near record for how low it is.
At just under 62%, the current labor participation rate is more than 5% lower than it was 20 years ago and only about 1.5% higher than it was in the depth of the pandemic. By comparison, about 5 million job openings have been added in that same time, and the BLS currently estimates there are more than 10 million non-farm job openings in the U.S.
These shortages are fairly clear in the service industry. I live in a small town with roughly 4,500 other people, but we're overrun by fast food places because the town is cut in half by a major highway. However, the hours of these establishments have been unpredictable for most of this year. You never know when one will be open or closed based on the number of people willing to come to work, and this scenario is playing out in cities large and small across the country.
Transportation, at least recently, has been somewhat immune, but there are a few storms brewing.
Since mid-2020, the number of new for-hire trucking companies (grants of motor property carrier authority) each month has nearly tripled, according to FTR. How many of those new carriers (about 100,000 of them since July of last year, according to FTR) can survive a return to freight normalcy? My guess is not many. From 2015 to 2020, there' were around 3,000 new registered carriers each month. In four of the last five months, the number of new for-hire trucking operations has exceeded 10,000.
We're also currently in another upswing of COVID cases. Political leanings withstanding, the number of people in the hospital with COVID or COVID-related illness is at best plateauing at a level not seen since January.
The pressure to get vaccinated seems to build almost daily.
Responding to a recent poll conducted by CCJ sister publication Truckers News, about 25% of company drivers polled said they had already been vaccinated. Almost 7% said they would comply and get the vaccine if an employer required it.
Tyson Foods last week said it will begin requiring all U.S. team members to be fully vaccinated. Tyson's private fleet has more than 1,300 drivers in more than 1,100 trucks, setting up a potential collision course with the 30% of company drivers that said in Truckers News' poll they would refuse a mandatory vaccine and force the employer to fire them. Another nearly 17% said they would claim a medical or religious exemption, while 16% said they would quit.
Old Dominion President and Chief Executive Officer Greg C. Gantt said Tuesday the carrier is taking measures to encourage drivers to get the vaccine – via a financial vaccination incentive – but that effort wouldn't go so far as mandating them.
This year, FTR forecasts a 6% boost in total truck loadings and an 18% improvement in total truckload rates. Next year, the firm is forecasting a 3.4% improvement in total loadings with rates essentially flat. FTR forecasts loadings on an upward trend across all segments through 2022. Obviously, industry upheaval driven by mass turnover could throw a stick of dynamite into an already volatile situation.
Just how many of the drivers who said they would quit or be fired will actually dig in that deep? Probably nothing to the tune of 46%. Data and polls conducted pre-ELD rollout suggested drivers would park their trucks en masse before having an hours nanny plugged into their dashboard, and that didn't happen. However, I realize there's a significant fundamental difference between being forced to use an ELD and having something injected in your body.
Fleets to-date have been reluctant to mandate vaccinations. Private carriers like Tyson were more willing to take the leap according to a recent survey conducted by CCJ, with 12% saying they've already mandated shots or COVID testing. Only 9% of for-hire fleet respondents said they had already implemented a mandatory vaccine or testing program and 60% said they had no plans to require it, but that soon could be coming to a head. We're already hearing reports of some shippers requiring carriers send only vaccinated drivers.
If only 32% of a given fleet is vaccinated, or willing to get vaccinated, that's an untenable situation that leaves fleets with virtually nowhere to turn. The pool of new CDL entrants is down considerably (fewer people are entering the job market anyway, remember) and presumably many of the drivers in the turnover pool would also be unvaccinated, according to Truckers News' poll. The logistics involved in tracking and routing a driver based on their vaccination status would be maddening if not impossible.
Unvaccinated drivers right now could have their choice of dozens of jobs, but are we at the point where vaccination status is just as important as a CDL endorsement? I don't believe we are there yet, but we're inching in that direction.
I think we all want to get to the same place – the place where we can all go carefree to concerts and football games; the place where we can roll up to a Taco Bell at 6 p.m and it actually be open; and the same kind of place where a cough is just a cough and a sneeze a sneeze – but the different ideals involved in how we get there have paved the road ahead with many bumps and potholes.