Trucking news and briefs for Monday, Sept. 6, 2021:
10 drivers named finalists for Transition Trucking award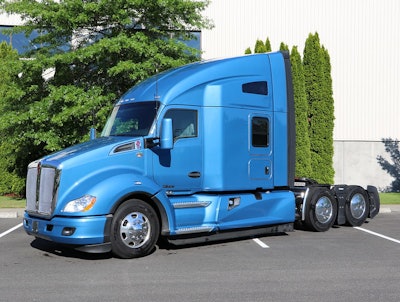 Fastport recently announced the 10 finalists for the Transition Trucking: Driving for Excellence award, which is dedicated to finding America's top military veterans starting their careers as rookie truck driver.
For the sixth consecutive year, Kenworth teamed with the Fastport Trucking Track Mentoring Program and the U.S. Chamber of Commerce Foundation's Hiring our Heroes Program to support the award.
The winner of the award will receive a Kenworth T680 with a 76-inch sleeper that features the complete Paccar Powertrain with Paccar MX-13 engine, Paccar TX-12 automated transmission, and Paccar DX-40 tandem rear axles.
The 10 finalists for the award are:
Steven Brown, U.S. Navy, Epes Transport System, a Penske Logistics company (CCJ Top 250, No. 12)
Lacresha Daniels, U.S. Navy, Prime Inc. (No. 15)
Marcus Ellis, U.S. Air Force, Stevens Transport (No. 47)
William Gamez, U.S. Army/Army National Guard, Roehl Transport (No. 59)
Scott McFadden, U.S. Navy, Melton Truck Lines (No. 83)
Jimmy Reddell, U.S. Army/Army Reserves, Stevens Transport (No. 47)
James C. Rose, U.S. Marine Corps, Prime Inc. (No. 15)
Christopher Slindee, U.S. Army, Knight Transportation (No. 4)
Brad Stonebraker, U.S. Army, Melton Truck Lines (No. 83)
Justin Utt, U.S. Marine Corps Reserve, Swift Transportation (No. 4)
The top three finalists in the program will be announced at the MHC Road Ready Center in Chillicothe, Ohio, on Oct. 6, following a recognition event and tour of the adjacent Kenworth Chillicothe manufacturing plant. A popular vote will take place online from Oct. 28 until Veteran's Day on Nov. 11, then the ultimate winner will be determined by a selection committee. The winner will be announced on Dec. 17 at the U.S. Chamber of Commerce in Washington, D.C.
Cummins, Mack founders among four inductees in inaugural trucking hall of fame class
Four big names in the trucking industry will be inducted into the American Trucking and Industry Leader Hall of Fame on Friday, Oct. 15.
The inaugural class will consist of:
Clessie Lyle Cummins, founder of the Cummins Engine Co.
Jack and Gus Mack, founders of Mack Trucks, Inc.
The Owner-Operator Independent Drivers Association
Dave Nemo, longtime SiriusXM RoadDog radio host
A ribbon-cutting ceremony officially announcing the opening of the ATIL Hall of Fame by the Greater Kansas City Chamber of Commerce will also be held Friday, Oct. 15, 2021. The inaugural ATIL Hall of Fame Induction Ceremony will be held in conjunction with the American Truck Historical Society's 50th Anniversary celebration at the ATHS home office in Kansas City. Local and state dignitaries, along with trucking industry leaders, are invited.
The ATIL Hall of Fame is housed within the American Truck Historical Society (ATHS) in Kansas City.
"This is a wonderful opportunity for visitors to learn both about the history and pioneers of this great industry through both ATHS and the ATIL Hall of Fame," said Tom Mullen, ATIL Hall of Fame Chair.
Waymo receives first Freightliner Cascadia designed for autonomous operation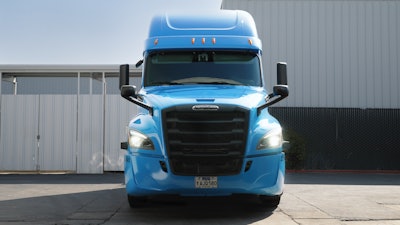 Waymo, a division of Google parent Alphabet, announced Thursday, Sept. 2, that its engineering team received one of the first Freightliner Cascadia trucks developed uniquely for the Level 4 autonomous Waymo Driver system from Daimler Trucks this past week.
In October 2020, Waymo partnered with Freightliner to build a redundant L4 Freightliner Cascadia designed specifically for the Waymo Driver. This Cascadia will be the first-ever redundant truck platform built for L4 readiness, Waymo said.
To help ensure safety, Waymo's trucks are equipped with backup systems and multiple layers of redundancies to handle the unexpected. This includes backup braking, steering, compute, and power. For example, all of the vehicles are equipped with a secondary computer that can take over in the event of a main computer failure, bringing the vehicle to a safe stop.