Trucking news and briefs for Tuesday, Oct. 12, 2021:
Texas governor bans mandated vaccines
Texas on Monday became the first state to go on the offensive in response to President Joe Biden's quest to see the majority of the unvaccinated U.S. labor force vaccinated.
Last month President Biden charged Occupational Safety and Health Administration (OSHA) with developing and implementing a rule that would have employers with 100 or more workers to require COVID vaccines or regular testing. The move is expected to impact more than 80 million unvaccinated workers in private sector businesses with 100 employees or more.
Many states have promised to fight the requirement if it passes. Some states have passed rules against involuntary mask use or enforcing mandates on certain segments – like teachers and healthcare workers – or requiring vaccine passports, but Texas Governor Greg Abbott's initiative is more broad.
In his executive order, Abbott said that "no entity in Texas can compel receipt of a COVID-19 vaccination by any individual, including an employee or consumer, who objects to such vaccination for any reason of personal conscience, based on a religious belief, or for medical reasons, including prior recovery from COVID-19."
Abbott also sent a message to the the Chief Clerk of the House and Secretary of the Senate adding this issue as an item to the Third Special Session agenda.
"The COVID-19 vaccine is safe, effective, and our best defense against the virus, but should remain voluntary and never forced," Abbott said via statement.
Texas is the home to more truck drivers than any other state in the U.S., and is behind only California with regard to number of trucking companies.
Three finalists named for Transition Trucking military vet award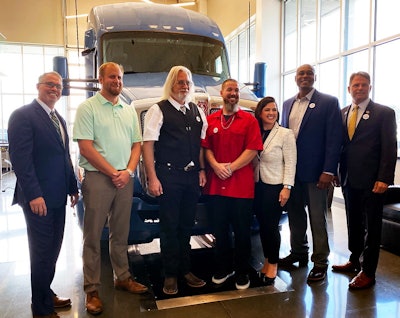 Fastport recently announced its top three finalists for the "Transition Trucking: Driving for Excellence" award, which is dedicated to finding America's top military veteran rookie truck driver.
The three finalists are:
Jimmy Reddell/U.S. Army, Army Reserves/Stevens Transport
James Rose/U.S. Marines/Prime Inc.
Christopher Slindee/U.S. Army/Knight Transportation
For the sixth consecutive year, Kenworth has teamed with the Fastport Trucking Track Mentoring Program and the U.S. Chamber of Commerce Foundation's Hiring our Heroes Program to support the award.
Kenworth is again providing a new Kenworth T680 with a 76-inch sleeper to the winner. The truck will feature a Paccar MX-13 engine, Paccar TX-12 automated transmission and Paccar DX-40 tandem rear axles.
Navistar set to deliver medium-duty electric truck to Penske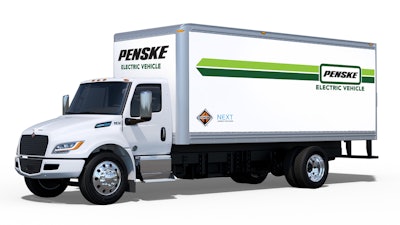 Navistar will soon make its first U.S. delivery of the full battery-electric medium-duty International eMV Series truck to Penske Truck Leasing.
The delivery of the International eMV Series reinforces the partnership of Navistar and Penske on the continued collaboration of various emerging technologies for the commercial vehicle industry.
"We are pleased to be partnering with Penske to take delivery of five of our earliest production eMV Series full battery electric trucks," said Dan Kayser, group vice president, National Accounts, Navistar. "This is truly a first step in our collective journey to grow the fleet of zero-emissions vehicles. These vehicles will be manufactured on the same assembly lines that currently produce International diesel-powered vehicles."
Penske plans to operate these units at various locations throughout their footprint with the intent of evaluating the operation of electric trucks in real-world situations. The company is expanding its electrified fleet and evaluating important related technologies to support a zero-emission commercial vehicle future.
Tennessee Trucking Association names Driver of the Year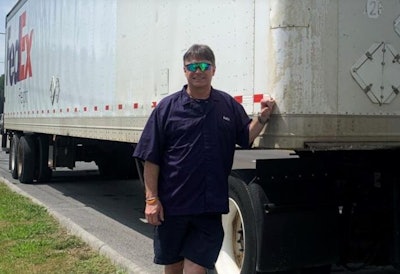 A trucker with 34 years on the road and more than 2 million safe miles to his credit has been named Tennessee's Driver of the Year.
Jeff Stinson, who drives for FedEx Freight (CCJ Top 250, No. 1), was recently honored by the Tennessee Trucking Association. He has been a city driver for FedEx Freight at the company's Kingsport service center for almost 30 years.
Since joining FedEx Freight, Stinson has earned multiple honors and awards, including the FedEx Freight Bravo Zulu Award for Safety, the FedEx Freight Master President Safety Team Award, and FedEx Freight President's Safety Team Award. He has also won numerous TTA Tennessee Truck Driving Championship awards over the years, including Grand Champion in 2017 and first place in the tanker class in 2016 and 2017.