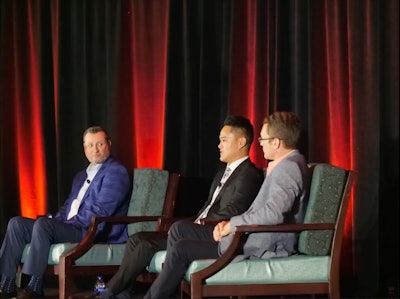 At Commercial Carrier Journal's Solutions Summit in Phoenix, Arizona, top fleets recognized as CCJ Innovators shared their strategies to use technology to improve driver pay, recognition, quality of life and, ultimately, recruiting and retention. 
The strategies included letting drivers pick their own loads, using a certifications to recognize driver achievements, and even using tech to precisely measure the language and tone of communications to pick up on and address driver issues before they manifest into problems. 
CCJ Innovator of the Year's load board
First up was Blair Ewell, senior vice president of Trucking Operations at USAT Capacity Solutions, this year's CCJ Innovator of the Year. USA Truck's load board system has been the subject of CCJ articles before, and Ewell shared with the audience some nuances to the system as well as how it came to be.
Ewell said the company's load board came about in an effort to delineate itself from owner-operators in case legislation like AB 5 ever went mainstream. Essentially, Ewell set out to create a load board to facilitate "vendor-to-vendor" relations with drivers, and in the process reevaluated how the company was losing drivers and "what drivers want."
"They're all human beings, they live these lives and they don't have any choices of what happens to them," Ewell said in describing the old system. "They don't get to choose what freight they haul. It's being dished up to them from a system, an old system -- the same one we've been using for 35 years in business. We know better. We treat them like less than human beings, saying: 'You're going to take this load, you're going to take your break, and then you'll take another load whenever I get around to telling you about it.' Who would want a job where you have no choices? And then we wonder why we can't attract drivers to this industry."
USA Truck's solution, an app available for download on company-owed or driver-owned devices, shows drivers loads available in their specific geography with specific empty miles limitations and other metrics built in.
"The driver selects a load and the system performs a validation. Can he do it within HOS? Is he within the constraints of empty miles and can he get there in time to do another load?" said Ewell in describing the system. Once the system validates the load, the driver's workflow begins.
Ewell said the results cut retention in half, boosted productivity 30% for drivers on the load board, and increased conversion from company driver to independent contractor while boosting driver satisfaction. Now, USA Truck's system has become a retention and recruiting tool.
"Now they believe they're working for themselves [and] for a company that cares what their life is like," he said. "That belief then turns into other actions that show new results. But here's where it gets really interesting, ICs have grown over 40% in the last year and half since we offered a load board. It's a very desirable situation and an ecosystem where they're able to play in the spot market as well."
Additionally, the system gives company drivers experience with a load board, which in turn gives them confidence to work as an independent contractor.
Ewell said USA Truck based the system on driver feedback, and now with the load board running, motivated drivers constantly pitch new ideas to improve the system and workflow. While USA Truck doesn't offer the load board to every driver (like new drivers and student drivers), it works as a form of career advancement and incentive to stay with the company. 
Certified RED a certified hit with drivers
Jeremy Stickling, the chief administrative officer at Nussbaum Transportation, started off by talking about some of the competition the trucking industry faces. 
"If you work in another profession you can get certifications," said Stickling. "If you're a tech you can get certifications. My brother is a plumber. You can get licenses. Software developers get certifications every time they learn to right click or spin the wheel on the mouse. In trucking it's missing. There's no certifications. We get our CDL and nobody cares." 
So Stickling and Nussbaum stepped in with a system of certifications for drivers that's entirely elective. "A man convinced against his will is of the same opinion still," said Stickling quoting Benjamin Franklin. 
"You have to enroll," Stickling said of the system. "If it's on my terms, I'm going to be more engaged with it."
The system works by rewarding drivers for ongoing education and engagement. The system offers four rounds, or semesters, throughout the year and rewards drivers based not just on avoiding tickets or accidents, but also driving styles.
Also, it's not an entirely tech-dependent system. "The learning method is hands-on with extra online work, a simulator, observation of driving and bringing in drivers for job shadows. We have subject matter experts make calls and peer mentor calls where drivers can talk to another driver that's a coach on a topic." 
Beyond engaging with the driver's particular work, the system also pays out rewards. There's a base pay bump of 2 cents per mile or a base salary raise of $50 a week, as well as decals for trucks that drivers can earn. Drivers earn Certified RED certifications at numbered levels in 100,000 mile increments, and each time a new level is reached the drivers are called into the office for somewhat of a graduation ceremony. 
"We call office employees away from the phones. It's disruptive to the office day, yes, but we'll present a certified status right there in our attempt at a graduation ceremony. Sometimes drivers bring spouses, children, parents," said Stickling. "Any time you get a 55 year old to invite their parents, you're hitting something good."
The results? Fleetwide Nussbaum sees a driver turnover rate of about 40%, but within the Certified RED program, that drops down to a lean 10.7%. Drivers in the program see four times fewer crashes and are "consistently doing 3% more miles than the rest of the fleet."
With a growing emphasis on driver downtime as a retention tool, the boost in productivity and safety should incentivize any fleet to look into similar programs. 
Tech tools to track trucker talk
Timmy Tran, vice president of systems and technology at JLE Industries, described perhaps the most tech-centric approach of anyone at the Summit, and stressed looking at individuals rather than drivers. 
"A lot of companies I see, it's just like 'whats your average productivity?' We look at an individual level to see what they're capable of and how we can improve on that," said Tran. 
At JLE, a data science team monitors nearly every company initiative from recruiting to retention to load planning and dispatching. "We have a data science team, which is kind of weird to say in trucking. We built this department this year to begin to predict safety maintenance and predict the needs and wants of our divers." 
Using AI to eliminate redundant postings and systems, Tran said JLE runs off a single system, which allows them to focus on the communication within that system. 
Most amazingly, perhaps, is JLE's ability to analyze nearly every single interaction that happens with drivers, and then to act on that analysis. 
"We digitize and analyze every conversation that goes through JLE," said Tran. "People are creatures of habit. We're able to analyze and predict models of how people talk when we communicate." 
Using this system not only sidesteps any potential "he said, she said" disputes, it also helps the company predict when drivers have a problem. Not only text conversations, but voice calls are monitored and analyzed. It's as simple as telling drivers, as they so often hear with other services, that calls are being monitored for training and quality purposes. 
"People speak in consistency, so each individual we profile differently. If a driver may be saying the word 'and' this many times, and this time they say it 20 times, we say 'That's out of our driver's habits'" and then follow up with further communication.
One can almost picture a usually stalwart driver on a call with management unsure about their next load and struggling to find the words. While the driver may not come right out and say they're uncomfortable with the way things are going, JLE's tech can pick up on them saying "and... and... and" and then follow up to address that anxiety. As other panels pointed out at the Summit, often the human touch and personal intervention goes a long way toward retaining drivers who may otherwise have trouble expressing their personal needs. 
JLE offers an internal load board that helps drivers predict their pay and pick their loads, and every communication that happens in that chain could potentially trigger a check-in from management if it falls outside the individual driver's established norms. 
"If a driver's productivity or hours are falling, that's the first flag," said Tran. "Then we can see trends and data points to be able to predict if they may want to leave. Maybe it's a small check-in they need. This system will trigger this for us weekly so they can reach out to see what's going on."