Trucking news and briefs for Monday, April 11, 2022:
Walmart now paying drivers up to $110,000 in first year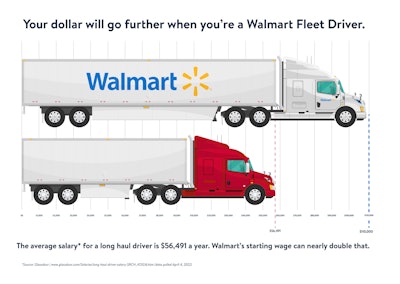 Walmart on April 7 announced a pay bump to incentivize drivers to join its fleet, and now the retail giant says drivers can make $95,000 to $110,000 during their first year, and that pay can rise from there.
Walmart said it has 12,000 current company drivers and had made a new investment in its workforce that means "drivers can now make up to $110,000 in their first year with the company. And that's just a start – drivers who have been with Walmart longer can earn even more, based on factors like tenure and location," the company said on its blog.
Additionally, the company launched the Walmart Private Fleet Development Program, which saw supply chain associates in the Dallas, Texas, and Dover, Delaware, areas earn their CDLs over a 12-week program to become drivers for Walmart.
Previously, Walmart had paid its drivers in the range of $85,000 to start. The company's move comes as many fleets raise pay to compete in a tight freight market.
AB 5 decision may not come until 2023
There has been no action since mid-November in the California Trucking Association's challenge to the state's restrictive AB 5 law that would effectively put a halt to the traditional leased owner-operator model in the state.
The last action occurred on Nov. 15, when the U.S. Supreme Court asked the Solicitor General to file a brief expressing the views of the United States on the case.
Greg Feary, president and managing partner with transportation legal firm Scopelitis, Garvin, Light, Hanson & Feary, said there is no deadline for the Solicitor General to file a brief for the case, but he expects the brief to be filed at the end of April or early May.
Once it's filed, the Supreme Court will be left to decide if it will grant CTA's request to review the case, known legally as a writ of certiorari. The current Supreme Court session will end in June or July, and the next session won't begin until October.
"If the Supreme Court denies the petition of certiorari, it might well do so before the end of this session," Feary said. "It is, however, more likely that the decision on the grant or denial of a hearing would be issued later this fall, possibly October or November."
Feary noted that there are currently three cases, including CTA's case, before the Supreme Court involving the question of the extent to which the Federal Aviation Administration Authorization Act of 1994 (FAAAA or F4A) preempts state law.
Because of this, Feary said he suspects "the Supreme Court will take some time in its analysis of which case," if any, "to grant certiorari to, and it is even conceivable that the Supreme Court could consolidate one or more cases and grant certiorari."
Ultimately, Feary said, "I suspect if certiorari is granted, we might not see oral arguments until the Spring of 2023 and possibly not see a decision on the merits until the Fall of 2023."