Trucking news and briefs for Monday, May 30, 2022:
CarriersEdge launches auto-hauler training course
CarriersEdge has unveiled a new series of online training courses for auto-hauler drivers.
The new suite includes "Auto-Hauler Cargo Inspection" and "Vehicle Inspections - Stinger Steer" courses. A third course, dedicated to unloading cargo, is scheduled for release this summer.
"Auto-hauling is a specialty area with unique needs," said Mark Murrell, President of CarriersEdge. "There is a lack of written information available to auto-hauler drivers, as standard tractor-trailer courses do not offer enough relevant information. There was a need for auto-hauler courses that walk drivers through inspection procedures and detailed the best practices for completing these inspections."
The "Auto-Hauler Cargo Inspection" course outlines how to properly conduct a vehicle inspection, identify damage or defects on the vehicles being transported and how to accurately report exceptions. After completing this course, drivers will be able to:
Perform delivery inspections both during and after business hours
Use multiple viewpoints to spot vehicle damage
Recognize the difference between common defects like scratches, gouges, dents and chips
Record damages and defects, including steps for photographing issues and informing the customer or yard supervisor
Stinger steers are unique truck-trailer combinations with distinct parts that drivers need to regularly inspect. The "Vehicle Inspections - Stinger Steer" course outlines what drivers need to look for, specific to their truck, to ensure compliance with regulations and to remain safe when transporting cargo. Through this course, drivers will learn:
Regulations for vehicle inspections
Details on inspecting decks, ramps and hydraulic components
How to complete a Vehicle Inspection Report (DVIR in the U.S.)
Both auto-hauler courses incorporate a combination of 3D models and real photographs, providing drivers with a complete picture of the vehicle and what to look for. The courses include inspection "hotspots" detailing how to inspect each area.
"Auto-Hauler Cargo Inspection" and "Vehicle Inspections - Stinger Steer" are available to CarriersEdge customers now at no extra charge, as part of the CarriersEdge subscription service. There are more than 90 titles in the CarriersEdge monthly subscription package, with new and updated titles added regularly. Courses are offered as full-length orientation, short refresher and remedial titles, and as standalone knowledge tests.
FedEx Express delivers baby formula in time of need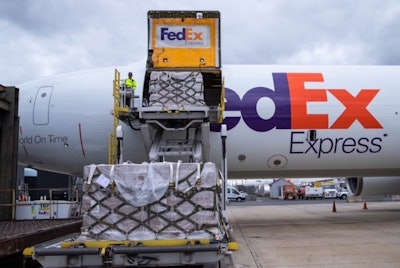 On May 25, a FedEx Express MD-11 cargo plane delivered 100,000 pounds of Gerber baby formula, equivalent to 1 million 8-ounce bottles, to Dulles International Airport from Ramstein, Germany.
For the second time during the week, FedEx Express supported the U.S. government's Operation Fly Formula with the movement of the shipment through the FedEx Express air and ground network. The shipment was offloaded and moved onto FedEx Express trucks for transport to a Nestle distribution center in Pennsylvania.
FedEx said it remains engaged with the U.S. administration and agencies to provide logistics and transportation support as needed for Operation Fly Formula.
"Our network was designed for missions like this – to move time-sensitive shipments safely and quickly," said Gina Adams, senior vice president for Government and Regulatory Affairs, FedEx. "The FedEx Express integrated air and ground network expedited the movement of baby formula from manufacturers overseas to the United States for distribution to retail locations and hospitals throughout the country. We're proud to be working with the U.S. government and our healthcare customers to help alleviate this crisis."