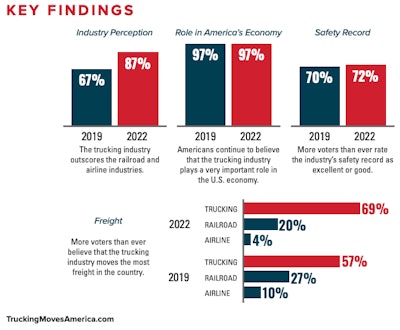 Hair metal rockers Cinderella struck gold (double-platinum, actually) in the late 1980s with "You don't know what you've got (till it's gone)" – a nearly 6 minute power ballad about love lost.
Fast-forward 31-years to the throes of the COVID-19 pandemic, consumers herded in homebound masses to local stores in search of dietary staples, and with rare and sporadic exceptions (toilet paper) never had to experience the pain of not knowing what we had until it was gone thanks to the trucking industry.
Throughout mid- and into late-2020, truck drivers and fleets saw a surge in respect and appreciation because, tagged as an essential business, consumers saw – some for the first time – just how all the things that fill their pantries and refrigerators get to the grocer, and that trucking couldn't take the pandemic off because, frankly, we'd all starve to death.
That was two years ago, and while some of the shine that came from being the heroes of the highway has worn off, survey results from a national poll conducted by Trucking Moves America Forward (TMAF) show the industry's effort and sacrifice has not been completely forgotten.
"The public perception of the trucking industry is at an all-time high with our poll finding that the majority of Americans – 87% of voters – have a favorable impression of trucking (up from 67% in 2019), which is the highest public opinion has been since TMAF began tracking industry views in 2014," said Kevin Burch, co-chairman of TMAF and vice president of government affairs and sales at MTS.
Nearly three-fourths (72%) rate the industry's safety record as "excellent" or "good," nearly the same as 2019, the most recent survey before 2022, at 70%, and 97% of Americans believe the trucking industry plays a "very important" role in the country's economy, the same as 2019.
When asked about truck drivers, 96% of Americans stated they are essential to keeping the country's economy moving; 85% consider truck drivers to be professionals; and 78% believe that truck drivers have higher standards for safety than other drivers.
When voters were asked which group of workers should be considered "essential or critical" in times of crisis, trucking ranked in the top three along with grocery store workers and healthcare workers.