Trucking news and briefs for Wednesday, July 12, 2023:
Ryder names three Drivers of the Year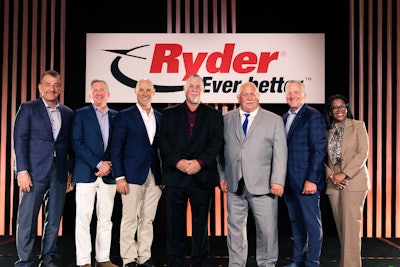 Ryder System, Inc. has announced the winners of its "Driver of the Year" awards, which honor the top professional truck driver in each of its three business units.
With more than 96 years of combined experience and nearly 9.6 million miles driven between them, Lance Simmons based out of Pensacola, Florida; Greg Cassell based out of Georgetown, Kentucky; and John "Keith" Kevil based out of Grand Prairie, Texas, take their places in the "Ryder Driver Hall of Fame," alongside an exclusive group of just 128 others over 51 years.
Simmons won for Ryder's Dedicated Transportation Solutions, for which drivers have the responsibility of operating specialized equipment, supervising unique product handling, navigating complex routes, and meeting demanding customer-service level requirements. During his 32-year career, including 16 years at Ryder, Simmons has logged three million safe miles, with 1.5 million of those at Ryder where he drives for a public utility company. A Ryder Certified Driver Trainer, Simmons is admired by his colleagues and supervisors for his unwavering dedication to safety and professionalism, as well as his exceptional character.
Cassell won for Ryder's Supply Chain Solutions (CCJ Top 250, No. 14). Cassell supports the automotive, aerospace and industrial vertical, which means he's responsible for delivering products for highly optimized, just-in-time supply delivery systems that feed the assembly lines for some of the world's largest manufacturers. Logging an impressive 3.3 million miles in his 40-year career, with 1.9 million of those miles at Ryder, Cassell has had zero safety incidents during his 23-year tenure at Ryder. That is particularly impressive given his role as a yard-management driver, which involves completing repeated short hauls in a busy yard and backing trailers into tight spaces.
Kevil won Ryder's Fleet Management Solutions' "Customer Driver of the Year" award. With more than 135,000 leased vehicles on the road, operated by professional drivers employed directly by Ryder's customers, the award recognizes those doing the most to keep roads safe while behind the wheel of a Ryder truck. Kevil has driven for Ryder's customer Domino's for 17 of his 24 years driving professionally, logging nearly 2.5 million miles for Domino's and 3.3 million in his career. Kevil, a Certified Driver Trainer and member of numerous committees for driver safety and regulations, is known as a leader among his colleagues for his attentiveness to equipment safety and reliability.
A. Duie Pyle expands Pennsylvania operations
A. Duie Pyle has opened a new state-of-the-art warehouse and distribution center in Allentown, Pennsylvania. By expanding its operations with the addition of the new facility, the company strengthens its industry-leading supply chain solutions to bolster operations in the heavily populated Northeast.
Pyle said the new facility will add warehousing and distribution, consolidation, deconsolidation and integrated solutions, such as load consolidation and final mile dedicated services, to Pyle's regional network.
Pyle's adjacent LTL location will help facilitate operations and ensure customers have access to a wide range of services.
"This major investment brings much needed warehousing capacity to the regional supply chain and further amplifies our capabilities as a leader in the space," said Frank Granieri, COO of Supply Chain Solutions at A. Duie Pyle. "We are continually researching how we can better meet our customers' evolving needs and continue to invest in real estate infrastructure to support their long-term growth objectives. With the opening of this facility in Allentown, we will be able to offer innovative engineered fulfillment and transportation solutions to our expanding customer base."
Pyle's Warehouse & Distribution centers also feature industry-leading sortation systems, high-density racking systems as well as customized technologies, which enable visibility and efficiency. With enough space on site for 109 trailing parking spots, in addition to storage, this location was designed to accommodate seasonal surge, transloading, and deconsolidation, offering unique flexibility to satisfy a wide range of customer needs.
Penske names top company techs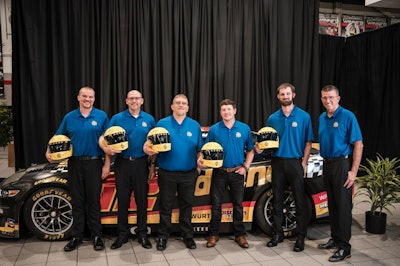 Penske Truck Leasing recently announced the top five finishers of its 2023 National Tech Showdown competition. The companywide, voluntary event was designed to test, sharpen and evaluate Penske's fleet maintenance associates on the mastery of skills required to maintain today's increasingly complex commercial trucks.
More than 1,600 Penske technicians and customer service representatives (CSRs) competed in the two-tiered event, which included timed, hands-on and written assessments.
The PM Plus competition – to test the preventive maintenance and brakes skills of tech III level associates and CSRs – was held February through May at the district and area levels with 552 competitors companywide.
The Tech Pro competition – to showcase larger exhaust stream management and brakes skills – featured 1,071 Penske tech I and tech II level associates, with the top 16 receiving invites to the National Tech Showdown finals held June 8 at Team Penske's racing headquarters in Mooresville, North Carolina.
"The success of the top five finishers in the National Tech Showdown competition really demonstrates their professionalism and ongoing commitment to their skills and trade. These technicians have showcased their expertise, adaptability, and problem-solving skills, propelling them to the forefront of this fiercely contested event," said Holly Gerke, vice president of maintenance development and technical training for Penske Truck Leasing. "The competition is a testament to the effectiveness of our programs that enable Penske's technicians to progress and grow with training throughout their careers and to navigate complex challenges with precision and expertise."
Penske Truck Leasing's National Tech Showdown top five finishers are:
Tommy Bass, Tech 1, Louisiana
Conner Fletcher, Tech 1, Tennessee
Ryan Sutherland, Tech 1, Wisconsin
Stephen "Todd" Wilcox, Tech 1, Alabama
Emmett Matulis, Jr., Lead Tech 1, Connecticut
Trucking Cares Foundation donates to fentanyl awareness org
The Trucking Cares Foundation, the American Trucking Associations' charitable arm, recently donated $25,000 to Voices for Awareness, a national organization aimed at raising awareness of the dangers of illicit fentanyl in the U.S.
"TCF is pleased to announce that we have made a significant contribution to Voices for Awareness. The ATA family and trucking at large is determined to deliver positive awareness to the growing Fentanyl crisis in America," said TCF Chairman Phil Byrd, president and CEO of Bulldog Hiway Express. "Our citizens, employees and families are being devastated by this evil drug and I'm proud that TCF has decided to get involved in this critical need."
Founded in 2018, the Voices for Awareness Foundation's mission is to raise awareness that fentanyl is highly addictive and can cause sudden death.
"The number of deaths in the United States due to fentanyl poisoning is staggering," said Andrea Thomas, founder of Voices for Awareness. "Illicit fentanyl is found in pills and powders and has made its way into every street drug. Teen deaths have dramatically increased due to fentanyl poisoning. Tragically, nationwide drug-related deaths reached a new record in 2022 with 109,680 people perishing as the fentanyl crisis continues to deepen."
The Trucking Cares Foundation focuses on several core areas, including humanitarian and disaster relief; eradicating human trafficking; leadership development; strengthening the industry's relationships with law enforcement, the military and veterans' organizations; safety and research opportunities.