Trucking news and briefs for Thursday, June 29, 2023:
XPO workers in Miami vote to oust Teamsters
A group of XPO (CCJ Top 250, No. 7) employees at the company's Hialeah, Florida, location have voted to remove Teamsters Local 769 union officials from their workplace.
XPO employee Martin Garcia filed a union decertification petition at National Labor Relations Board (NLRB) Region 12 on May 19, which contained the signatures of enough of his colleagues to prompt the NLRB to hold a union decertification vote. The NLRB held the vote on June 21, in which a majority voted to end Teamsters officials' bargaining control over the facility.
Garcia and his colleagues received free legal assistance in their effort from National Right to Work Legal Defense Foundation staff attorneys.
Because Garcia and his colleagues work in a Right to Work state, they had the freedom to refuse to pay dues or fees to the Teamsters while it was representing the workers. In non-Right to Work states, in contrast, workers can be forced to pay dues or fees to a union they oppose as a condition of getting or keeping a job, and a decertification vote is the only way to end both forced dues and union representation.
"Teamsters officials didn't listen to us and didn't represent our interests in the workplace," Garcia said. "My coworkers and I decided that the best way forward was to vote them out, and we're glad we could get legal aid from the National Right to Work Foundation in exercising our rights."
[Related: Yellow files $137 million lawsuit against Teamsters union]
Mack MD Electric now available for order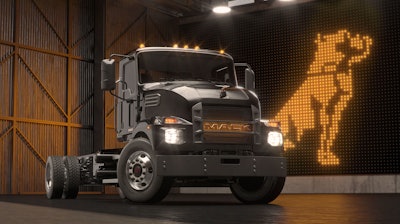 Mack Trucks announced Wednesday that its Mack MD Electric, the first medium-duty electric vehicle for the brand, is now available for order. Customers interested in ordering the Mack MD Electric should contact their local Mack dealer.
The MD Electric complements Mack's highly efficient, diesel-powered Mack MD model sibling, which has continually experienced growing customer demand since its introduction in 2020. The addition of a zero-tailpipe emissions battery-electric vehicle (BEV) to the Mack medium-duty lineup also supports the company's long-term sustainability goals.
"Mack is excited that customers can now order the Mack MD Electric," said Jonathan Randall, president of Mack Trucks North America. "Mack is committed to moving toward a more sustainable decarbonized future, and the MD Electric is just another step in our journey. Since we introduced the MD Electric in March, we've received overwhelming customer response and interest, so we're happy that customers can now place their orders."
[Related: Mack MD series 'nothing short of success']
The MD Electric is the second electric vehicle introduced by Mack Trucks to the industry. The first was the Mack LR Electric, which went into production in December 2021.
The Mack MD Electric will be available in Class 6 and Class 7 ratings like its diesel counterpart. The Class 6 model has a Gross Vehicle Weight Rating (GVWR) of 25,995 pounds, and the Class 7 model has a GVWR of 33,000 pounds. Both models are exempt from the 12% Federal Excise Tax (FET).
The MD Electric's three-phase Permanent Magnet Synchronous motor and all on-board accessories are powered by Nickel Manganese Cobalt (NMC) Oxide lithium-ion batteries, either in a 150kWh or 240kWH configuration. The MD Electric can be charged through AC or DC charging units. The regenerative braking system helps recapture energy from the multiple stops the vehicle makes each day.
The Mack MD Electric is approved to be a part of California's Hybrid and Zero-Emission Truck and Bus Voucher Incentive Project (HVIP). HVIP can help accelerate the commercialization of zero-emission trucks by offering point-of-sale vouchers to increase the affordability of advanced technologies.
[Related: Watch: Mack provides a closer look at their MD Electric]
A. Duie Pyle opens new Pennsylvania office for revamped brokerage division
A. Duie Pyle (No. 67) recently opened its revamped brokerage division in Mechanicsburg, Pennsylvania.
Located southwest of Harrisburg's city center, Pyle's new 6,563 square foot office space for the brokerage division has already created 12 new jobs, with plans to add another 35 in the future.
The relaunch of its brokerage services will allow the team to create backhaul opportunities for its dedicated fleets, provide truckload capacity for less-than-truckload (LTL) customers, offer seamless communication for warehousing pickups/deliveries and long-haul truckload support for pool distribution and consolidation opportunities in its LTL network.
"The relaunch of our brokerage division enables us to return to the basics of our industry and ensure our customers are met with transparent, agile and attentive communication and support every step of the way," said Peter Latta, chairman and CEO of Pyle. "We chose the city of Mechanicsburg because it's well-positioned in our network across the Northeast U.S., and it is a great location for our Pyle People due to its reasonable cost of living."