Trucking news and briefs for Wednesday, July 5, 2023:
Pepsi drivers join Teamsters
A group of 86 drivers at Pepsi Bottling Group LLC have voted to join Teamsters Local 988 in Houston.
"This is a perfect example of our union successfully organizing in core industries from coast to coast," said Teamsters General President Sean M. O'Brien. "Workers everywhere are rising up and fighting back because it's a new day for the American labor movement."
A Pepsi driver who served on the organizing committee applauded the outcome of the vote.
"This has been a long time coming," said Johnny Matamoros, a seven-year driver. "Pepsi has been trying to prevent us from forming our union for over a year now, but today we showed them that with solidarity comes with power."
Robert Mele, president of Local 988, said forming the union "shows Pepsi that its drivers are organized and unafraid to exercise their rights. Our fight now turns to winning fair pay and better health care in contract negotiations."
[Related: XPO workers in Miami vote to remove Teamsters]
Saia honors employees with safety awards
Saia Inc. (CCJ Top 250, No. 21) announced that Saia LTL Freight recently honored its drivers, dockworkers, mechanics and other select personnel for their 2022 safety achievements. Nearly 6,000 awards were distributed to personnel who met a safety goal or reached a career milestone.
City and line drivers were honored for their years of safe service and miles driven, while dockworkers, hostlers, mechanics, and other maintenance and material handling employees were recognized for the number of years they have worked without a lost-time injury.
Along with special pins and certificates, many employees received custom jackets, rings or watches. Drivers with 3 million miles, or 24 years, of accident-free driving were given a custom gold watch. This year, 41 drivers received a watch. Diamonds are added for each additional 500,000 miles, or four years, of accident-free driving. Nine drivers received their second diamond and 18 drivers received their first.
Two drivers, Jackson, Mississippi, Line Driver Kenneth Magee and New Orleans City Driver Gregory Blauvelt both received a third diamond for their watches to recognize 37 and 45 years of safe driving, respectively.
Drivers with 1 million miles, or eight years, of accident-free driving received a custom, personalized gold ring. For each additional 500,000 miles, or four years, of accident-free driving, a diamond is added to the ring. Up to three diamonds can be added for a driver who has reached 2.5 million miles or 20 years of accident-free driving. This year, 180 drivers received their million-mile rings, 130 individuals had their first diamond added to their rings, 97 received their second diamond, and 41 were awarded their third diamond.
A special jacket was awarded to city and line drivers with 500,000 miles or four years of driving service. This year, 318 drivers received a jacket.
Additionally, 1,774 dockworkers, hostlers, mechanics and other maintenance and material handling personnel were presented with a jacket, watch or backpack to honor their safety achievements. Of note, 45 dockworkers and mechanics have achieved 30 or more years of safe work at Saia.
TEL opens new maintenance facility in Indiana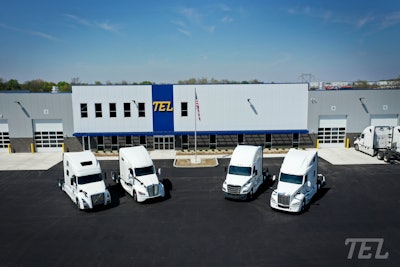 Transport Enterprise Leasing (TEL) has unveiled a new 56,000-square-foot, state-of-the-art fleet maintenance and reconditioning facility in Greenfield, Indiana, off I-70 in the east Indianapolis metro area.
The facility can handle more than 130 tractors and trailers a month, expanding TEL's maintenance and reconditioning capabilities across the Midwest and other parts of the country, said Aaron Thompson, Vice President of Fleet Maintenance for the company.
The facility, which sits on 40 acres, includes six trailer bays, 18 truck service bays and 10,000 square feet of space for parts storage. It employs 30 people on a single shift, with the potential of adding a second shift in 2024.
"TEL's mission has always been to help entrepreneurial minded individuals start and maintain successful businesses in the trucking industry. We do that by offering innovative solutions, unparalleled value and best-in-class service and support to aid in growing their businesses. This maintenance and reconditioning facility is a testament to our commitment to serve independent contractors and small fleet customers in the Midwest and beyond," Thompson noted.
The facility includes a security enclosed lot, a fully enclosed paint booth, DOT-certified technicians on staff, a fully-automated indoor truck wash system and more.