Trucking news and briefs for Wednesday, Aug. 9, 2023:
ATA, TMC hosting fourth National Technician Appreciation Week
The American Trucking Associations and ATA's Technology & Maintenance Council will host the fourth annual National Technician Appreciation Week from Sept. 24-30.
NTAW will provide an opportunity to celebrate the hard work and commitment of professional technicians, who perform one of the most demanding and critical roles in trucking.
The week will not only acknowledge the efforts of diesel techs, but also help attract prospective talent to one of the most in-demand careers in the industry.
"The men and women who keep our trucks moving are a critical part of our industry and are highly deserving of recognition," said ATA President and CEO Chris Spear. "The work that technicians do is crucial to the work our motor carriers do. By maintaining our trucks and ensuring they are safe and fit for the road, fleets are able to deliver the essential goods that keep our economy running."
TMC Executive Director Robert Braswell added that "technicians are part of the backbone of the trucking industry. Without them making sure vehicles are ready for service and in safe condition, drivers could not make the deliveries we rely on. This is the perfect time for our industry and the general public to show their appreciation and say 'Thank you' to these important individuals and the valuable work they do."
J.B. Hunt recognized by Wreaths Across America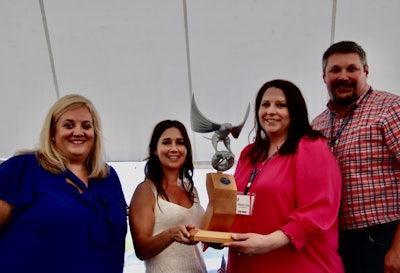 On Saturday, July 29, as part of its 10th Annual Stem to Stone event, Wreaths Across America (WAA) recognized J.B. Hunt Transport Inc. (CCJ Top 250, No. 3) as the seventh recipient of the organization's James Prout Spirit of Giving Award.
Company representatives were presented the award by the WAA Transportation Team at the nonprofit's annual weekend event held in the Downeast region of Maine, where it is headquartered.
The award is named in memory of James Prout, owner of Blue Bird Ranch Trucking of Jonesboro, Maine. Prout was the first person to volunteer to haul wreaths to Arlington National Cemetery when the program was in its infancy. The award is given semi-annually to a deserving professional truck driver, company or organization that has supported charitable causes in a way that will affect generations to come.
In 2022, J.B. Hunt handled 42 shipments of wreaths for WAA, of which 32 were intermodal loads. These loads were shipped to the West Coast via rail, helping WAA save on over-the-road load capacity and cost. In addition to J.B. Hunt donating their services for the intermodal loads, they were instrumental in securing support from BNSF and Norfolk Southern.
"This will be J.B. Hunt's 10th consecutive year to participate in Wreaths Across America, and each year it sparks a lot of excitement among our employees," said Brad Hicks, executive vice president of Highway Services and People at J.B. Hunt. "Supporting our veterans is a privilege, and it's important that we remember their sacrifices made to preserve our freedoms. We are very humbled to receive this special recognition from Wreaths Across America and look forward to continuing this tradition."
This year, National Wreaths Across America Day will be held on Saturday, Dec. 16.