Trucking news and briefs for Friday, July 28, 2023:
Heartland, subsidiaries seek ELDT regs exemption
Heartland Express (CCJ Top 250, No. 45) and two of its subsidiaries – Millis Transfer and CFI – are requesting an exemption from the entry-level driver training (ELDT) regulations requiring that a behind-the-wheel (BTW) training instructor have at least two years of experience driving a commercial motor vehicle or two years of experience as a BTW CMV instructor.
Millis conducts training for all three companies and describes its trainer evaluation process as "second to none."
The companies said the two-year experience requirement "impedes their ability to hire enough trainers to meet the demand." They added that they believe Millis' pre-ELDT policy of a one-year minimum experience for its over-the-road (OTR) trainers and its "extensive" safety evaluation of those trainers has allowed it to be a positive contributor to highway safety.
Millis reported an estimated student enrollment of 500 to 700 students for 2023 for all three companies. Its 131 trainers currently spend up to 90 days with a student before letting them drive solo, and because of the shortage of trainers, Millis said it will have to turn some students away.
The proposed exemption would allow MTI to continue its one-year minimum training experience requirement so that it can add another 90 to 150 BTW trainers to its current trainer group. Should the exemption be granted, these additional trainers would be allowed to conduct BTW training without meeting the two-year minimum requirement for BTW instructors.
The Federal Motor Carrier Safety Administration is seeking public comment on the request, which can be made for the next 30 days at www.regulations.gov by searching Docket No. FMCSA-2023-0081.
Clean Freight Coalition meets with government officials on emissions regs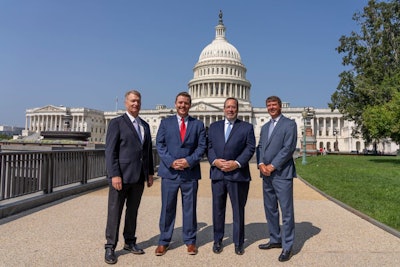 Leaders from the Clean Freight Coalition (CFC) on Wednesday met with officials from the Joint Office of Energy and Transportation to discuss the challenges and opportunities of transitioning the nation's commercial truck fleet to low- and zero-emission vehicles.
The first meeting between CFC and the Joint Office occurred as emerging state and federal regulations aim to push the transportation sector toward decarbonization, CFC said. The Joint Office was created through the Bipartisan Infrastructure Law to facilitate collaboration between the U.S. Department of Energy and the U.S. Department of Transportation on deploying a network of electric vehicle chargers and zero-emission fueling infrastructure. As an alliance of freight transportation stakeholders committed to a zero-emission future, the CFC launched in March to educate policymakers on these issues.
During this week's meeting, the CFC urged the Joint Office to consider the heavy-duty sector when granting federal funds. CFC cited a massive infrastructure gap as one of the largest hurdles to a seamless transition away from carbon-based fuels – one that policymakers need to focus on now, CFC noted.
"One of the fatal flaws in California's electric-truck mandates is that the infrastructure buildout is lightyears behind the hyper-aggressive timelines set forth in regulation," said CFC Executive Director Jim Mullen. "By trying to force the trucking industry to electrify without the charging infrastructure and power capacity that will be required, the state is setting trucking and the supply chain up for failure. That's why in our meeting with the Joint Office today we stressed why EPA should not propose ZEV-dependent rules prior to ensuring the necessary resources are actually in place."
The CFC also met with lawmakers on Capitol Hill to discuss concerns over EPA's Phase 3 Greenhouse Gas rulemaking and to urge repeal of the federal excise tax, which would provide dramatic and immediate emissions reductions by helping turnover the nations aging truck fleet with today's cleaner and safer models.
WOTAB meeting again next month
The Federal Motor Carrier Safety Administration's advisory board focusing on issues related to women in the trucking industry will meet next month to discuss various ways to bring more women into the trucking industry.
FMCSA's Women of Trucking Advisory Board (WOTAB) is set to meet virtually on Monday, Aug. 14, from 10 a.m. to 4:30 p.m. Eastern. Registration for the public meeting is available here.
The topic for the meeting will be "Opportunities to enhance trucking training, mentorship, education, and advancement and outreach programs that would increase the number of women in the CMV industry," a Federal Register notice said.
Oral comments from the public will be heard during designated comment periods in the meeting at the discretion of the WOTAB chair and designated federal officer. Speakers are requested to submit a written copy of their remarks for inclusion in the meeting records and for circulation to WOTAB members.
Estes opens new Louisiana terminal
Estes Express Lines (CCJ Top 250, No. 11) recently held a ribbon-cutting ceremony for its new terminal in New Orleans.
The facility features 76 doors, 32,515 square feet of dock space, and 3,200 square feet of office space.