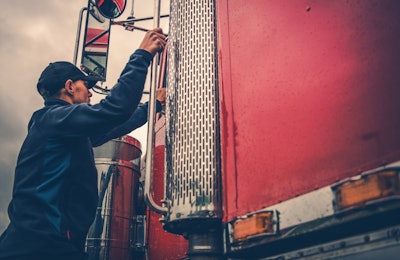 While 11 states have now signed up to pull the plug on federal unemployment benefits to help motivate recipients to step up and fill a record number of jobs, FTR Transportation Intelligence cautioned that fleets probably shouldn't get too excited about banking on state policies to fill driver vacancies.
The $1.9 trillion American Rescue Plan, introduced by President Joe Biden earlier this year, pays unemployed workers $300 a week on top of state benefits. Critics contend that the extra money is convincing potential workers to steer clear of a swelling job market.
In its latest Job Openings and Labor Turnover (JOLT) report released this week, the U.S. Bureau of Labor Statistics reported 8.1 million job openings for March, a record high for the series that began in December 2000.
[Related: Trucking conditions hit record high in March]
While those job openings include plenty of driver positions, FTR Vice President Avery Vise said states ending those $300 federal checks in June or July ahead of the Sept. 6 federal cut-off will more than likely not see stampede of ideal driver candidates despite hopes to the contrary.
"Certainly the industry seems to think it's a big deal," Vise said during FTR's webinar, State of Freight: Economic Outlook.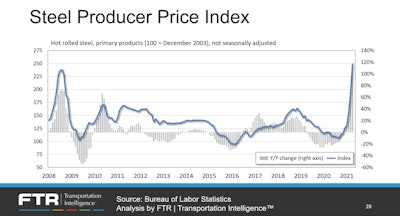 On May 4, Montana became the first state to nix the $300 checks. Alabama, Arkansas, Idaho, Iowa, Mississippi, Missouri, North Dakota, South Carolina, Tennessee and Wyoming have since followed and more may be coming.
"Every time that has happened, I've seen posts from trucking organizations thanking the governor for doing so," Vise said. "I'm a little skeptical in trucking only because, relatively speaking, trucking pays a lot of money for a service sector job. And yeah, I did the math last night."
Vise said that in at "least half the states, the gap between the absolute most you can make on unemployment and what you would make on average as a truck driver is about $300 a week."
That $300 difference adds up to roughly $15,000 a year.
"I guess the sort of snarky point I would make is that, do you really want the driver who is so unmotivated that he or she does not want to work for an extra $15,000 a year?" Vise asked. "Yes, it might fill that seat in your truck, but that's probably not the driver you want to keep long term."
Strong economy amid inflation concerns
Inflation made plenty of news this week as consumer prices surged 4.2% in April, a 13-year high according to the U.S. Department of Labor.
Though prices are on the rise, FTR's economy expert, Bill Witte, sees solid growth ahead for the rest of 2021.
"We think we're going to continue to have a relatively strong economy through this year with overall growth above 6%," said Witte, a longtime macroeconomist who uses a computer model for forecasting that relies on roughly 300 variables.
"The economy was shut down and it's now restarting and that process we expect to continue," Witte continued. "We expect output growth to slow next year to two-and-a-half percent which is still probably above the long run normal rate but not a whole lot."
Stimulus money could lead to more shopping and greater freight demand so long as consumers are willing to play along.
"Households haven't spent a lot of the stimulus," Witte said. "They're saving it. And if that continues, it means that maybe the stimulus that we've still got which has just hit the economy, won't have the expected effect."
[Related: Freight brokers push for carrier selection standards]
Vise showed slides revealing rising producer price indexes for lumber, which shot up over 100% since 2020, and steel, which increased roughly 120% during that same time.
"The consumer producer level of inflation we're seeing is quite real," Vise said. "Just to touch on the freight implications of this, it's very simple: if consumers face higher prices that means that even if they spend as much or even maybe more, they're going to get fewer goods for what they're spending and fewer goods is going to translate to softer freight demand."
More fodder for inflation can come through rising wages. The tactic may work in attracting additional job candidates, but it can come at a heavy price.
"The danger is that when wages go up, that means that the firms employing that more expensive labor will ultimately be forced to raise prices," Witte said.
For Witte, who experienced the inflationary periods of the 1960s and the 1970s, keeping inflation in check will require the Biden administration to pay close attention to the warning signs and to follow through with timely action.
"That was the problem in the seventies. Inflation kept ratcheting up, but it never seemed quite serious enough to run the risk of putting the economy down the toilet," Witte explained. "Then when it finally got to the point where it was serious enough, we really went down the toilet in a big way. So they're heading into the possibility of being between a rock and a hard place and at that point there are no good ways out."