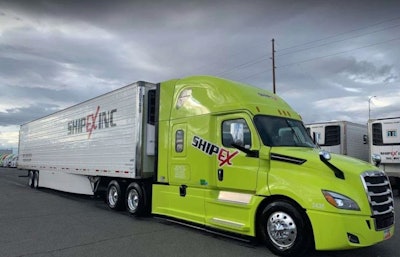 Natural language has become the primary input for many artificial intelligence (AI)-powered software applications. Millions of people invoke "Siri," "Alexa," or "Hey, Google" to find information and perform tasks without lifting a finger.
In similar fashion, many businesses are now using cloud communication systems and contact centers with embedded voice intelligence to automate time-consuming tasks. These AI-powered systems can instantly analyze key words and identify sentiment in phone conversations to alert managers to take action.
Technology that instantly detects the sentiment of calls with customers and drivers may not be on the radar of many transportation and logistics companies. It wasn't for Zach Glenn, director of IT for truckload carrier ShipEX, until he heard about voice intelligence from a new sales associate who had experienced it at a previous employer. Salt Lake City-based ShipEX is a truckload carrier with more than 350 power units.
"That's fancy stuff," Glenn remembers telling the sales associate. "We are a trucking company. We don't need to know the sentiment of a call."
Glenn said he changed his mind when management decided to give AI-powered voice intelligence a try.
Analyzing phone calls
ShipEX began using Dialpad's cloud communications and contact center in July 2019.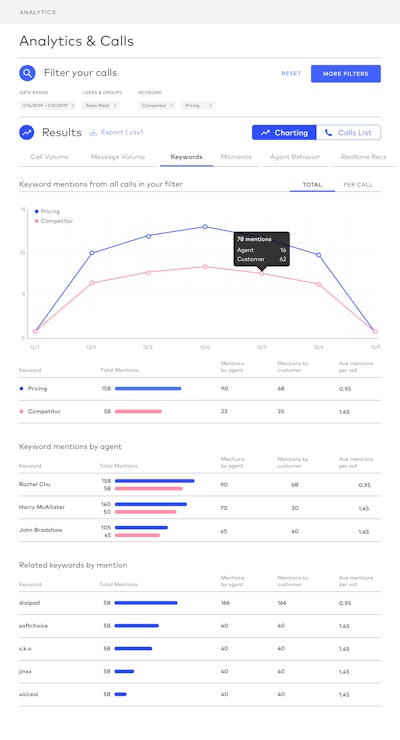 Dialpad's proprietary voice intelligence technology has the highest accuracy of speech recognition and transcription in the industry, said Dan O'Connell, chief strategy officer of the San Francisco-based company, adding that Dialpad conducts monthly voice recognition benchmarks against Google and Amazon.
From the start, the technology seemed to fit ShipEX's goals of providing drivers a better experience and managing key sales performance metrics for "how we are talking to clients," he said.
"We are trying to not be a standard trucking company. We want our language to be clean," Glenn said. "We want to be very professional. We want to rise above."
In short, the company wants team members to "treat people like they would treat their Grandma," he said.
One of the first benefits that ShipEX saw from using the platform came from frontline workers having a live, real-time transcription of phone conversations. They could read what the caller was saying, which increased comprehension for team members who are non-native English speakers.
On a manager level, the platform gives sales and operations a way to monitor call sentiment and receive instant text and email alerts the moment conversations take a turn for the worse based on instant analysis of key words.
When problems are detected in phone conversations, ShipEX managers take a number of actions:
Feedback and coaching. Managers can jump into live calls or follow up directly with customers and drivers to avoid hurt feelings and damaged relationships by using reports, transcripts and recordings. If a negative sentiment about home time occurs during a driver conversation, for example, a manager would get an alert and could either intervene directly or contact the driver after the call. Similarly, if a sales or operations employee has a dispute with a customer about a load — over rate, appointment time, detention or other area — a manager would get an alert based on the key word.
Manage risk. If a conversation about a sensitive legal matter takes place, such as when a driver calls in to report an accident, ShipEX's head of legal gets an instant alert based on keywords. The legal department can also work behind the scenes to investigate possible violations of company policies with drivers and customers.
For ShipEX, voice intelligence technology is not only being used to identify exceptions. Because the platform is an automated notetaker, the company's inside sales manager can search for key words in conversations, said Glenn, to analyze how many times clients have asked about certain shipping lanes and gather other strategic information.
[Related: Salary without exceptions: ShipEX simplifies driver pay]
Additionally, ShipEX uses the platform to gather anonymous feedback from drivers when they call members of the fleet's driver advisory board. ShipEX gives board members a private number to receive calls and the platform shields personal numbers while recording and transcribing the text of calls for monitoring and assessing complaints.
"I love it," Glenn said, "and I don't tell people I love technology because if you work in technology you don't like technology."
Opening a relay channel
A new startup, Ten5, recently launched a cloud-based voice platform that aims to improve efficiency in driver-dispatcher communications for increased job satisfaction and retention.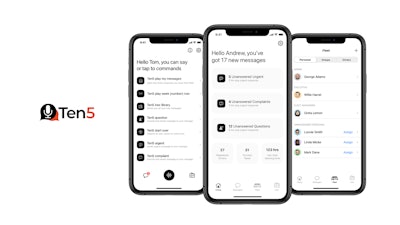 Co-founded by Drew Ryder and Susan Fall as an independent voice app, the platform does not use technology from Apple, Google or Amazon, which leaves room "to have a lot more flexibility to customize for a specific industry application," Ryder said.
Ten5's driver app creates a direct line of communication with driver managers. If a driver has an urgent question or concern, they can invoke a voice message, handsfree, by saying "Ten5." Drivers can tag the message as high priority by saying "Ten5 urgent."
When drivers have finished their message, they say "I'm done" to sign off.
Urgent voice messages go to the top of a manager's dashboard. For non-urgent messages, drivers can use other tags or no tag at all. Driver managers can respond back directly with a voice message.
Fall describes the Ten5 platform as a tool that "gives a voice to the driver and makes the communication between driver and driver manager more efficient and more personal."
Ten5 also has an admin layer that shows all communications and analytics for each driver manager. Ryder said the long-term vision of Ten5 is to use voice intelligence to analyze key words and "really help fleets understand what things they can do."
A beta version of Ten5 is presently available for iOS, and an Android version will be available soon, Ryder said.