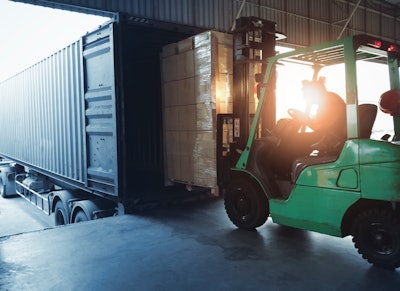 The Transportation Intermediaries Association (TIA) is making a legislative push to establish a safety standard for motor carrier selection.
Rep. Mike Gallagher (R-WI) and Rep. Seth Moulton (D-MA) introduced HR3042 in Congress, which seeks to establish a national motor carrier safety selection standard for entities that contract with certain motor carriers to transport goods, and for other purposes.
The bill was referred to to the Subcommittee on Highways and Transit earlier this week.
[Related: Pandemic forces fleets and freight brokers to accelerate digital efforts]
The Federal Motor Carrier Safety Administration conducts audits of motor carriers to give them a safety rating (Satisfactory, Conditional, Unsatisfactory). With the current rating system, 85% of carriers are not rated, however, and that is "not fair" to freight brokers, said Anne Reinke, president of TIA.
A new safety standard would help prevent instances where freight brokers are roped into negligence selection lawsuits. "Typically, those who like to file lawsuits like confusion. We are trying to provide certainty," Reinke said.
Despite having limited public safety data on carriers, freight brokers and 3PLs use a variety of qualitative and quantitative metrics to guide their selection of carriers. During the TIA conference this week, a panel of 3PLs discussed how these metrics have been useful during a time when capacity is very tight.
The freight market has been very "rough, tumble, and extremely transactional" during the past year, said John Sutton, director of corporate support for Sunset Transportation, a 3PL based in St. Louis, Missouri. The company uses a carrier scorecard module in its transportation management system (TMS) from McLeod Software, to "make sure transactions are operating in guidelines."
Monitoring carrier service levels for on-time pickups and deliveries as well as compliance with load tracking data requirements are all "hot topics," said Eileen Dabrowski, director of learning, development and marketing for ReedTMS Logistics, a Tampa, Florida-based motor carrier and freight broker.
The pandemic has made it necessary for ReedTMS to find more transactional business, as contracted business has been more difficult to sustain with rates going up.
"We are making more outbound calls [to find carriers] than we ever have, especially in certain markets," Dabrowski said. "This market is really volatile and dynamic. Every time we think we get a handle on it, we don't."