This is one of three installments in CCJ's What Drivers Want series. Two other articles in the series are "Pay and respect top influences on why drivers leave a carrier" and "Why many drivers aren't looking forward to retirement". You can download the full results of our What Drivers Want report here.
A nice truck is a perk, but it's not a significant bargaining chip when trying to sway a would-be driver away from another fleet, according to the results of CCJ's most recent What Drivers Want survey.
Just 2% of company drivers cited a new/newer model truck as the main reason they would consider changing jobs and driving for another fleet, but that doesn't mean they would be satisfied rolling around in bone stock equipment.
"I need a radio I don't have to mess with to keep me informed and entertained," said company driver Steve Hearne, "(and) I need a seat that won't break my back and give me Charlie horses."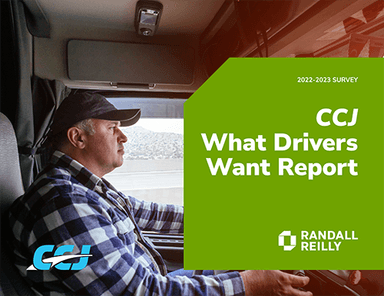 What do drivers want? Find out with this comprehensive research from the editors at CCJ.
Download to access insights on driver pay, why they switch fleets, family life/home time and more.
Special seat that improves comfort for long hours of driving was the top (62%) equipment feature drivers said was important to them; a full 20% higher than having a late model truck and having a large sleeper. Just behind a nice seat, with 56%, was an auxiliary power unit (APU). When asked to rank them in order of importance, the seat and APU, again, were ranked 1 and 2, respectively, followed by a large sleeper and late model truck. Satellite radio rounds out the Top 5.
"Compared to the cabovers of the '70s, '80s and '90s, trucks have improved to make our lives better for living," said company driver Ron Moore. "I am driving a beautiful burgundy with a cream stripe, new KW W990. Compared to crawling into a coffin, the large sleeper is nice."
An APU was particularly in demand with the youngest group of survey respondents; 100% of drivers age 34 and under cited it as important.
While complex technology made the list of things that cause drivers frustration, a communication platform that keeps them connected with the office ranked sixth (24%) as a feature drivers felt was important.
"Good communication decreases stress," said company driver Robert Jenkins, "and comfort in driving decreases stress."
Company driver Cliff Sees said he likes having a record of conversation with his dispatcher while company driver Micael Harmon added "reliable communication at all the times would be number one on my list."
The whole world seemingly awaits trucking's transition to zero emissions but that enthusiasm doesn't translate to the men and women behind the wheel. Almost half (49%) of all respondents to CCJ's most recent What Drivers Want survey said they didn't care one way or the other about battery electric or hydrogen powertrains and just 11% said that if their fleet bought one, they would want to drive it.
Those that did care about zero emission trucks claim to care a lot; 40% said they would quit before driving one. Maybe unsurprisingly, the youngest group of respondents – those age 34 and younger – were more favorable to electric powertrains, with 27% wanting to drive it and only 18% willing to quit over it.
Why do fleets struggle to recruit and retain drivers? Actual drivers weigh-in.