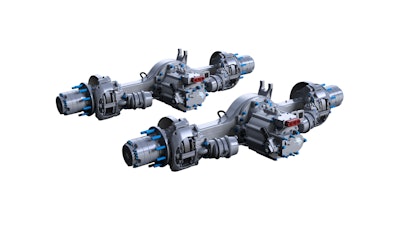 Meritor announced Wednesday that it will kick off production this year of its 14Xe all-electric, fully integrated, commercial electric powertrain on a variety of medium- and heavy-duty commercial vehicles with three OEM partners.
Meritor last January announced an agreement with Paccar to be a non-exclusive supplier of electric powertrains and "one year later, we are nearing production and preparing to put vehicles on the road," said T.J. Reed, Meritor vice president of global electrification. 
Meritor has reached new supplier agreements with Lion Electric, a Canadian manufacturer of medium and heavy-duty zero-emission vehicles, Autocar, an American specialty truck manufacturer, and Volta Trucks, a London-based electric commercial vehicle startup. Each company will use the Blue Horizon 14Xe integrated ePowertrain in its production trucks. 
Produced at Meritor's facilities in Asheville and Forest City, North Carolina, the 14Xe is designed to provide efficiency, performance, weight savings and space utilization. The electric powertrain is contained within the conventional 14X suspension package. Compared to remote mount systems, Meritor says its 14Xe features a tighter turning radius due to a shorter wheelbase; increases room between frame rails for additional battery capacity, which extends the range of the vehicle; and is up to 800 pounds lighter.
Reed noted Meritor's acquisition of integrated drive system company TransPower – and its portfolio – allowed the company "to grow our capabilities in software and controls."