The year is 1899. William McKinley is president, celebrated science fiction writer Jules Verne is alive and well, the first World Series is still a few years out and the U.S. Postal Service's first electric delivery vehicle is hard at work.
The Winton electric, which got the mail out in less than half the time of a horse-drawn carriage according to the USPS, was soon joined by others in the fleet. Though these quiet, lead-acid models upset fewer horses than noisy, engine-equipped horseless carriages (a noteworthy criticism at the time according to The Detroit News), they brought up concerns that still hold true in some applications today: range and charge time. On that topic, USPS Postmaster Freeman Dickerson wrote in 1900, "An automobile operated by gasoline will be far preferable."
USPS eventually pulled the plug on its early EVs by 1920 and opted for internal combustion which, aside from an EV testing program that resumed in the 1950s, has remained its dominant powertrain choice.
UPS is also very familiar with EVs and began putting them to work in the 1930s according to UPS Global Fleet President Carlton Rose. However, battery-powered delivery vehicles have never supplanted internal combustion at the world's largest package delivery company for the same reasons Dickerson cited 121 years ago: lackluster range and long charge times.
[Related: Charing infrastructure better than we think?]
But fast-forward to 2021 and advancements in lithium-ion battery chemistry have drastically improved both range and charge times according to the Brookings Institution, a public policy think tank in Washington, D.C. that researches and publishes findings on innovative products and ideas that are thought to have great potential for positive societal impact.
Factor in low maintenance along with the low cost of electricity and the result is a big reduction in the total cost of ownership, according to Ford, which predicted a 40% drop in TCO for its upcoming electric Transit. Add the mandated fight against tailpipe emissions and market appeal for zero-emission commercial electric vehicles grows even more. But, like with any emerging technology, there are important pros and cons to consider, which for some applications might be the old specters of range and charge time. Let's take a look…
Pros: Head-turning benefits of EVs
1. Lower total cost of ownership
In addition to Ford, Lordstown predicts a 37% savings over a 5-year period with its electric Endurance pickup versus a gas-powered F-150. The savings can diminish for larger EVs, like Class 8 trucks, where steeper truck and charger costs, greater payload demands and duty cycle make TCO a tougher play.
On its website, Freightliner's parent company, Daimler, states that its "E-Mobility Group offers comprehensive consulting for customers and works on an entire E-eco system, supporting e-mobility to become economically more feasible also in terms of TCO (Total Cost of Ownership)." The City of Ocala, Fla. estimates that charging its five BYD electric trash trucks will prove to be 78% cheaper than filling up on diesel.
[Related: TCO isn't just capital cost and direct expenses]
Utilities are quickly stepping up to help fleets get a better grasp of understanding the cost benefits of going electric. Southern California Edison added an Electric Fleet Fuel Savings Calculator to their website to help fleets see the savings of plugging in their trucks versus filling up at the pump.
Peterbilt also offers an Operating Costs Calculator on its website to help fleets get a sense of TCO for the electric 579EV on-highway tractor, 520EV refuse truck and 220EV medium-duty cabover. Total cost of ownership is offered on a per mile (on-highway applications) or per hour basis (vocational applications).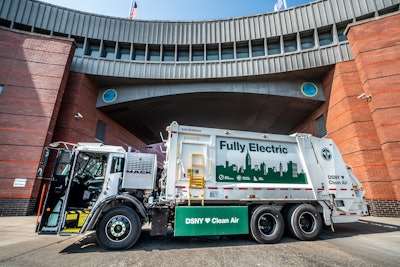 2. A better image for your company
Fleet EV acquisitions, especially for that first truck, typically garner plenty of headlines regarding the company's embrace of zero emissions.
New York City Department of Sanitation got a landslide of press after buying its first battery-powered trash truck, a Mack LR Electric, in September.
A Google search for 'DSNY electric truck' generated 272,000 results. That's just for one truck. Imagine the price tag for getting that kind of publicity through an advertising campaign.
DSNY has also posted a positive message on the side of its battery-powered truck that reads, "DSNY ♥ Clean Air."
Conversely, there's a PR risk for not being green enough which was the case recently for USPS when the Sierra Club and members of Congress criticized the agency for choosing to convert 10% of its future delivery vehicles to electric in a $482 million deal with vehicle manufacturer Oshkosh Defense. A bill was introduced in the House shortly after the deal was announced to dramatically increase the amount of EVs to 75% of the fleet. Read more about that here.
3. Happier drivers and neighbors thanks to exceptionally quiet motors
Commercial EV drivers have given high marks for an EV's quiet performance. Not only that, but this can prove especially welcoming during early morning trips in sleepy neighborhoods.
"The guys are just really happy with them," Brandon Taylor, GSC Logistics director of transportation which is operating three electric BYD 8TT tractors at the Port of Oakland, said. "They're really quiet, there's a lot less vibrating in the tractor than a diesel tractor. I think it's taken less toll on their bodies than the diesel tractors."
On its website, BYD says its electric trucks "are not only good for the air but also good for the ears. They reduce your fleet's noise pollution and are half the noise of diesel, hybrid or CNG engines."
4. Impressive one pedal operation
Thanks to regenerative braking, simply take your foot off the accelerator to come to a nice, gradual stop. I tried this in an electric Zenith delivery van in Long Beach during the Advanced Clean Transportation Expo in 2019. It was pretty impressive. The van, featuring a Dana-Spicer powertrain, came to a well-timed stop in traffic without the use of the brake pedal. Brake regen can be adjusted on most commercial EVs allowing for a quicker stop or a more gradual one. Battery charge rates will be impacted accordingly.
5. Launch strong with instant torque
Unlike internal combustion, there's no waiting for the powertrain to reach an optimum RPM before max torque kicks in.
"When our drivers first went into the trucks they were amazed with the power and how good the ride was: no vibrations, not losing any power on hills," said Jim O'Leary, vice-president of fleet services for NFI which runs electric Freightliner eCascadias in Southern California. Read more about NFI's experience with electric trucks here.
6. Portable power supply
With EVs comes the possibility for exportable power. The Ford E-Transit, which is expected to roll out later this year, will offer 2.4 kW of juice for power tools, etc. Ford has hinted at exportable power in its upcoming electric F-150 which is slated to hit dealerships in mid-2022.
[Related: Lordstown truck goes up in flames, critical report follows]
Lordstown said it will offer exportable power on its Endurance which is scheduled to roll out this September.
Cons: EVs come with unique and costly challenges
1. Dig deeper to go green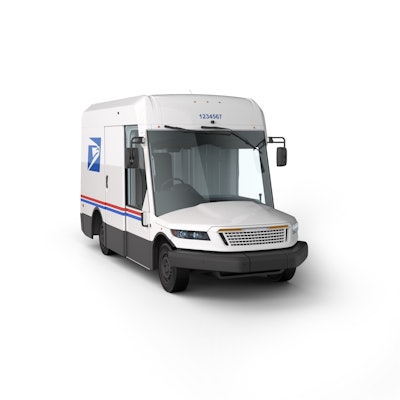 Electric trucks and vans—and there are few on the road today—cost more upfront than conventional vehicles. Ford and Lordstown are pushing to counter that trend. E-Transit has a starting MSRP of $45,000. A comparable Transit with a 3.5-liter V6 starts at $40,035. The Lordstown Endurance pickup is priced at $52,500. Prices rise when larger battery packs are optioned. DC fast-chargers are sold separately. According to the U.S. Department of Energy, non-residential DC fast-chargers range from $10,000 to $40,000.
Though it takes far fewer parts to manufacture an EV, a roughly 90% reduction in powertrain parts for E-Transit according to Ford CEO Jim Farley, a big chunk of the cost is in the battery. The price disparity between conventional and all-electric gets bigger in larger vehicle classes. Simply put, the larger the battery, the larger the cost.
The upfront cost for a commercial EV can be substantially higher than conventional. U.S. Postmaster Louis DeJoy told Congress recently that electrifying 90% of the USPS delivery fleet (a recent USPS contract calls for up to 165,000 new USPS mail vans) would cost $3 to $4 billion above the current multi-billion dollar 10-year effort to replace the fleet's aging delivery vehicles. He cautioned Congress that current USPS expenses were not sustainable.
EV costs are heavily impacted by battery prices. Battery manufacturers are working to taper cost by reducing the amount of cobalt in lithium-ion batteries, a costly element that provides much-needed stability in a high-energy cell. Manufacturers are increasing "nickel-heavy battery designs that have become cheaper to produce as factories expand," an S&P Market Intelligence report states.
Overall, battery costs have been trending downward, according to BloombergNEF, a research provider that closely monitors the EV industry. Battery pack prices, on a global scale, dipped below $100 per kilowatt-hour for the first time last year and are projected to reach an average of $100 per kWh by 2023. Pack prices averaged $137 per kWh last year, a nearly 90% drop from 2010.
2. Blame it on the range
Peterbilt's 579EV has an 80,000-lb. GCWR and a range of 150 miles. Freightliner's eCascadia and Kenworth's T680E are both rated at 82,000-lb. GCW and have ranges of 250 and 150 miles, respectively.
But as Kenworth notes on its T680E webpage, range depends on application. Rivian states that its R1T pickup will launch in June with a range of 300 miles and a max towing capacity of 11,000 lbs. The impact on range relative to towing, however, is not clear.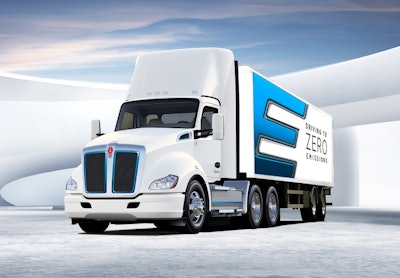 Range demands hinge on fleet duty cycles which can prove challenging. Class 8 electric trucks that are being advertised as regional haulers (current available models are not billed for long-haul) still can't always compete with Class 8 diesel or natural gas because of range limitations.
NFI (No. 24 on the CCJ Top 250) Vice President Jim O'Leary told Commercial Carrier Journal that an all-electric Freightliner eCascadia in Southern California can only make two round-trips from Chino, Calif. to the Port of Long Beach versus three with the company's diesel because of a lack of range. Read more about NFI's eCascadia impressions here.
Large commercial EVs require larger batteries which adds cost and vehicle weight that negatively impact range. Load it down with too much freight and the range, depending on duty cycle, may not be strong enough. Solid state batteries (Toyota and QuantumScape recently reported promising progress but these batteries remain in R&D) offer about twice the energy density at roughly half the weight of lithium-ion.
Other conditions, such as hot and cold climates, can impact range as well. Rivian CEO RJ Scaringe told CCJ's sister publication Hard Working Trucks the company has overcome the issue of ambient temperature impact with temperature-controlled battery packs.
3. Fast-charging may not be ideal on two fronts
DC Fast-charging an EV may sound good but it comes with some important considerations. First up is cost which rises well above the DOE's estimated price range of $10,000 to $40,000 when it comes to charging Class 8 trucks.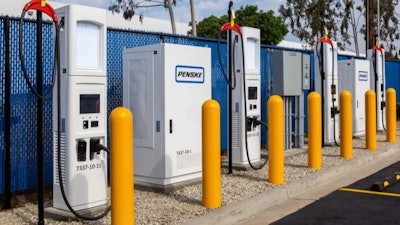 "The infrastructure is expensive," O'Leary said. "What we saw was about $100,000 a charger with the infrastructure included. Probably a little bit more than that."
An on-board charger that comes with E-Transit will charge the van in eight hours which will save considerable cost versus a DC fast-charger, and according to some experts, is better for battery life.
[Related: Fast-charging debate point to fleet needs, expectations]
Though charging a truck costs less than fueling it up, O'Leary pointed out that electricity prices vary depending on demand. Rate charges drop at night when overall demand on the grid decreases. However, rate charges increase as fleets consume more electricity.
Also, charging a battery quickly may not be a fleet's best option.
"Fast charging definitely puts a strain on current-generation batteries," said Greg Less, technical director at the University of Michigan Battery Lab. "There are research projects at the University of Michigan that have shown that it can be done safely as well, but that's not currently available to the broader fleet."
4. Do you have all the power you need?
It's not just charger cost that's a concern. Having enough juice through your power lines can be a big challenge too. Power demands, of course, will vary depending on the number of EVs and their charging needs.
"The problem we're going to have adding trucks is really finding more electrical power," Taylor said. "We're at the port. The port is their own electrical provider. We're tapped out at our building.
[Related: Utilities marketing electric trucks? Of course!]
"For us to put in more chargers, they've got to bring in more power off the lines," Taylor continued. "That's going to be the big hold-up for anybody expanding their fleet is where to get all the power and infrastructure."
5. It's time to go shopping for more tools, equipment and training
Technicians will have to undergo training to work on EVs which present much different challenges than internal combustion. In most cases there will be far fewer service issues which, if your EV fleet continues to grow, may lead to fewer techs required in the shop.
EV service work is a whole new world. Check out Dana's excellent EV service training videos if you haven't already. Techs need to wear jump suits, shock resistant gloves and arc resistant face shields. EVs involved in accidents will have to be parked outside the shop, according to Dana, for observation prior to getting a stall inside. The reason? You need to ensure that all that voltage is under control and won't lead to anything dangerous like a battery fire.
6. Understand battery fires
Though rare, lithium-ion battery fires are notoriously dangerous on two levels: they burn so intensely that they've been compared to blow torches and they're difficult to extinguish. Even when put out, EV battery packs have been known to reignite.
"Thermal runaway and multiple battery re-ignitions after initial fire suppression are safety risks in high-voltage lithium-ion battery fires," the National Traffic Safety Board wrote in a safety report released in January that addresses EV high-voltage and lithium-ion battery fires.
Extinguishing an EV battery fire is challenging. Mountain View Fire Department Chief Juan Diaz said Tesla recommends dousing a damaged battery pack with 3,000 gallons of water to keep it cool. Diaz' tanker truck holds only 500 gallons. The Model X battery his crew attempted to extinguish re-ignited several times including six days after the vehicle had been involved in a fatal accident.
Pack penetration from roadway debris and accidents have been blamed for some of these battery fires while others have occurred during normal vehicle use, seemingly unimpeded by external factors. Safety is obviously paramount. To that end, NTSB recommended several steps in addressing high-voltage and EV battery fires including the "incorporation of vehicle-specific information in emergency response guides for fighting high-voltage lithium-ion battery fires."
On a positive note, solid-state batteries, which remain in development with key players like QuantumScape and Toyota, do not present flammability concerns according to Silicon Valley-based QuantumScape. They're also smaller and have about twice the energy density. Read more here.
7. Be aware of battery sourcing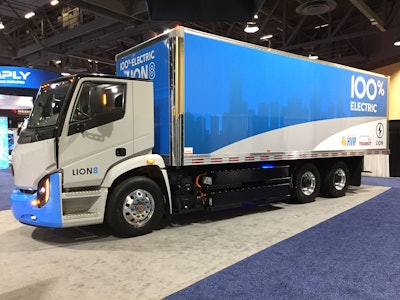 While going green and saving greenbacks through a lower TCO are attractive and make for good headlines, using batteries obtained through controversial sources can quickly lead to negative news. Most lithium-ion batteries used in electronic devices and EVs contain energy-dense cobalt which provides much-needed stability in a powerful chemical mix.
Several stories have been published regarding how cobalt used in battery construction is being obtained through child labor in African mines. The blue, powdery element is also very costly. As a result, battery manufacturers have been seeking replacement elements such as manganese and iron.
While on the path to gradual cobalt reduction and elimination, Panasonic revealed a new lithium-ion battery at the Consumer Electronic Show in January that contains only 5% cobalt. The Japanese company plans on producing a cobalt-free battery within the next two or three years.
8. Know your role in battery repurposing, recycling and disposal
Fleets are familiar with lead-acid batteries, nearly all of which can be recycled. But unfortunately that's not always the case with lithium-ion batteries. BYD, the world's largest EV manufacturer, stated that lithium-ion battery recycling is not all that efficient—yet. The price of cobalt, which has quadrupled the last couple of years, can certainly impact overall recycling profitability.
But, as stated earlier, cobalt's being pushed out in favor of other elements. BYD expects recycling efficiency to improve as technology grinds ahead but in the meantime there's highly toxic sludge to deal with following recycling. So, where does that sludge go and will fleets be impacted? History has shown that when the byproducts of business render toxic and potentially dangerous products, businesses have had to pony up and do their part.
Currently, Uncle Sam has been nothing but gracious in rolling out generous incentives to get fleets more interested in acquiring EVs. But after that honeymoon's over, will your bean counter be dealing with disposal and recycling fees? Fleets are already familiar with lead-acid disposal fees.
[Related: EV batteries offer second-life and recycling opportunities]
Li-Cycle, North America's largest lithium-ion battery recycler, reports a zero-waste recycling process. Recycling can at times be profitable.
"The fee or payable to the customer is dependent on a number of factors such as the commodity prices, chemistry of battery, and format," said Li-Cycle Chief Commercial Officer Kunal Phalpher. "In some cases there is a fee and in others we are paying for batteries."
Arriving at the point of recycling and disposal can take a lot of time since most EV batteries are engineered to last eight to ten years. Once an EV battery reaches roughly 80% degradation, or the time at which it's no longer suitable for powertrain use, fleets may—depending on contractual arrangements—have opportunities to use those batteries for energy storage. Used EV batteries can be repurposed for back-up power and to recharge other EVs. This is an emerging market that will only continue to grow as more EVs hit the road.
9. What's your plan b when the lights go out?
Power outages can create obvious concerns for anyone with an EV. Unfortunately, there are no easy answers at this point. Generators can supply back-up power but for a fleet accustomed to DC fast-charging, generators will need to be substantially sized and with that can come a steep price. The Ford E-Transit is rated to accept a 115kW fast-charger which will provide 45 miles of additional range in 15 minutes. A Generac 115kW natural gas generator that's up to the task of meeting that power demand is priced at roughly $30,000.