Trucking news and briefs for Wednesday, May 26, 2021:
ATRI outlines research priorities for 2021
The American Transportation Research Institute will focus its research this year on under-21 truck drivers, electric trucks, marijuana decriminalization, driver-facing cameras and zero-emission trucks. The ATRI Board of Directors approved the list of research topics at a recent meeting.
ATRI's Research Advisory Committee selected research topics that examine workforce, infrastructure, legal and operational issues, which align with multiple top concerns identified in ATRI's annual Top Industry Issues survey. Additionally, given the heightened attention on electric vehicles, two of the top priority studies will examine specific trucking impacts arising from increased deployment of electric trucks.
Specifically, the 2021 ATRI Top Research Priorities are:
Understanding how to best integrate 18-20-year-olds into the trucking industry. This research will utilize a case-study approach to document best practices for recruiting, training and retaining younger individuals into trucking careers.
Charging infrastructure considerations for electric trucks. From examining power demand scenarios to availability of grid connectivity and vehicle charging requirements, this research will be a trucking industry-focused assessment that identifies the electrical infrastructure issues associated with deploying electric trucks.
Marijuana and other drugs: Impacts of decriminalization on the trucking industry. As more states move to decriminalize marijuana and other drugs, this study would update ATRI's 2019 report by examining roadway safety and workforce impacts in those states changing their controlled substance laws. 
Quantifying the impacts of driver-facing cameras on fleets and drivers. This analysis will focus on safety, litigation and workforce impacts from deployment of driver-facing cameras.
Understanding the environmental impacts of zero-emission trucks. This research will be a comparative environmental impact study of the full lifecycle – manufacturing, operations and disposal – of electric versus diesel Class 8 trucks.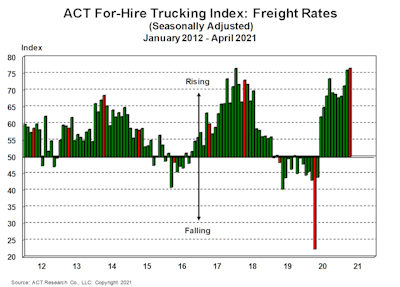 Freight volumes slowed in April while rates hit record high, ACT reports
The latest release of ACT's For-Hire Trucking Index, with April data, showed a slowing in volumes, strength in pricing, and a supply-demand balance that is still tight but beginning to show early signs of rebalancing.
Tim Denoyer, ACT Research's Vice President and Senior Analyst said the volume decrease followed a five-month high in March, which was due in part to poor weather in February.
"Some of the strength was make-up for the polar vortex-impacted February level, but this slower growth also likely reflects ongoing supply constraints and the deepening semiconductor shortage," Denoyer said. "And with both driver and equipment capacity in short supply, we are witnessing the strongest rate environment in survey history, even with a bit slower volumes."
He added that pent-up demand is still building, and the freight volume outlook remains positive.
"This should keep the market tight, but we expect the rebalancing trend to continue in the medium-term," he added. "The risks are that substitution back to service spending gradually cools the freight volume environment and that the eventual end of extended unemployment insurance helps driver availability improve."
The ACT For-Hire Trucking Index is a monthly survey of for-hire trucking fleets. ACT Research converts responses into diffusion indexes, where the neutral or flat activity level is 50.
Barr-Nunn recognized by customer
Barr-Nunn Transportation has been awarded Gap Inc.'s 2020 National Carrier of the Year honor, which recognizes the carrier's commitment to customer service and innovation. This marks the ninth consecutive year the clothing retailer has recognized Barr-Nunn.
The honor confirms Barr-Nunn's commitment to providing reliable service, a steadfast safety record and customer satisfaction, the fleet says.
"Gap, Inc. is an excellent organization and to be recognized as its 2020 National Carrier of the Year points to the effectiveness of our entire team," said Rene Beacom, president of Barr-Nunn. "We strive to deliver superior service, safety and value, and I would like to thank not only our partners at Gap for recognizing us for accomplishing this but most importantly, all of those in our company, especially our exceptional drivers, who made it happen."