Trucking news and briefs for Wednesday, Aug. 24, 2022:
McLane adding three electric Volvos to fleet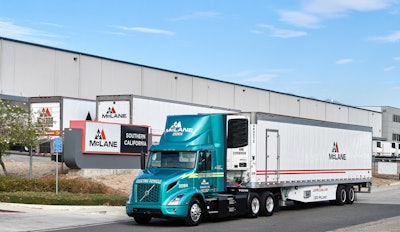 McLane Company is taking delivery of three Volvo VNR Electric trucks to provide zero-tailpipe emission deliveries in Southern California.
The Volvo VNR Electric trucks are the first Class 8 electric tractors that will be on the road for McLane and will operate on the highways and city streets of the Los Angeles metropolitan area, transporting products to McLane's customers, including leading convenience and grocery stores.
"McLane is a dedicated environmental partner supporting its customers in their sustainability goals and aligning well with Volvo Trucks' own commitment to quieter cities, cleaner air, and efficient, sustainable transport," said Peter Voorhoeve, president, Volvo Trucks North America. "The adoption of battery-electric trucks continues to expand in Southern California and our dealer partner TEC Equipment has been invaluable in providing support to customers as they begin their electromobility journey."
Through McLane Grocery and McLane Foodservice, McLane operates more than 80 distribution centers and one of the nation's largest private fleets. The company buys, sells, and delivers more than 50,000 different consumer products to nearly 110,000 locations across the nation.
As part of its Green Advantage initiative, McLane has made significant operational improvements that will not only reduce its environmental impact, but also make it a better and more efficient company.
The three VNR Electric trucks McLane is integrating into its fleet feature Volvo Trucks' adaptive-loading system, which helps improve energy efficiency. The adaptive-loading system switches automatically between 6x2 and 4x2 drive-axle configurations using a forward axle that lifts tires off the ground when a trailer is empty, nearly empty, or carrying a light load.
McLane's Volvo VNR Electric trucks have an operational range of up to 275 miles and were designed as sustainable transportation for fleet operators looking to decarbonize their distribution, supporting local and regional pickup and delivery, and food and beverage distribution. To support its new battery-electric trucks, McLane has installed a 62.5 kW charging infrastructure that includes two ChargePoint Express 250 Stations.
"We are excited to add these new battery-electric tractors to our fleet," said Tony Frankenberger, chief executive officer, McLane Company. "McLane is committed to improving the communities we serve and to exemplify the innovation and leadership needed to help our customers meet sustainability goals with the adoption of zero-tailpipe emission battery-electric vehicles."
ACT Class 8 Tractor Dashboard negative for fourth straight month
According to ACT Research's recently released Transportation Digest, the top line on the Class 8 Tractor Dashboard was unchanged in June, the fourth month of moderately downbeat readings.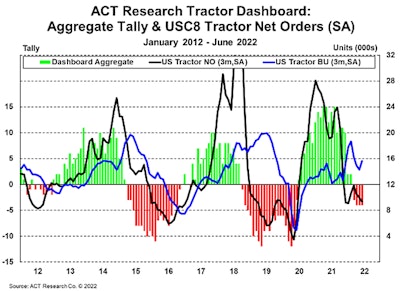 "Our interpretation is a gradual erosion for Class 8 market demand in the second half, but no 'spiral down' and certainly not a 'cliff event'," said Kenny Vieth, ACT's President and Senior Analyst. "With talk of recession in the air, we think the Dashboard reading, while negative, still suggests a better outcome for Class 8 than was the case in our last two recessions (COVID 2020 and the 2008-2009 Great Recession)."
Vieth noted that when looking at the various metrics that make up the index, "we did see some very modest improvement in the freight-related metrics, with two categories exiting negative territory into neutral." Yet, the number of positive readings in June were cut in half to just two of 15 possible variables being positive, he said.
"For readers who are new to this framework or want a refresh, we believe that the dashboard offers a three- to six-month forward-looking window into conditions in the U.S. tractor market," Vieth said.
Sysco drivers in Louisville vote to join Teamsters
More than 100 truck drivers at foodservice distributor Sysco's terminal in Louisville, Kentucky, have voted, by a nearly 3-1 margin, to join Teamsters Local 89.
In unionizing, the drivers were seeking increased pay, better benefits, improved safety, and fair work rules.
"Local 89 put a lot of work into helping the drivers win this election, and we're happy as can be to represent these folks," said Avral Thompson, President of Local 89. "Now it's time to get to work and help them win the best contract possible."
Once the election is certified, Thompson said Local 89 will kick off proposal meetings and begin the bargaining process.
"This was a very long, drawn-out process, but we were determined to win union representation," said Cory Browning, a driver who has worked at Sysco for more than seven years. "It was eye-opening to see the company spend millions of dollars trying to keep the union out. Their response made it even more apparent that they [management] knew we were worth more."
The International Brotherhood of Teamsters represents more than 10,000 Sysco workers nationwide.