Trucking news and briefs for Tuesday, Sept. 6, 2022:
Energy Secretary Granholm visits Volvo Trucks dealer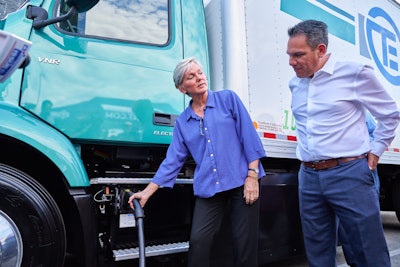 Two Southeastern Freight Lines terminals celebrate 70th anniversary
Southeastern Freight Lines (CCJ Top 250, No. 36) is celebrating 70 years of "Quality Without Question" service from its service centers in Charleston, South Carolina, and Savannah, Georgia.
Both service centers opened in 1952 and have seen significant growth since establishment. Charleston began operations with five dock doors and six associates and has grown to 63 dock doors and 92 associates.
Savannah started with just one dock door and the facility now consists of 90 dock doors and 70 associates.
Over the years, the Charleston and Savannah service centers have given back to their communities, most recently through Southeastern Serves, a program dedicated to having associates of all levels volunteer in their local communities to assist needy individuals.
The Charleston service center was the third service center opened since the company's establishment in 1950. Soon after, the Savannah service center was founded as the fourth location. Southeastern now operates 89 service centers spanning 13 states, Canada and Puerto Rico.