Trucking news and briefs for Wednesday, April 5, 2023:
Hirschbach, Lineage Logistics deploy electric yard trucks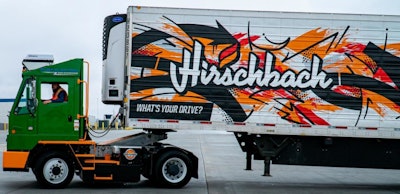 Hirschbach Motor Lines (CCJ Top 250, No. 49) and Lineage Logistics today announced the deployment of five Orange EV electric yard trucks to Lineage facilities in the greater Kansas City area.
The move is another step in the companies' sustainability journeys, adding to an array of measurable, impactful carbon reduction and efficiency initiatives, they said.
Hirschbach is providing zero-emission spotting services for two Lineage facilities in Kansas. An industry leader in freight supply chain efficiency, Hirschbach has won multiple EPA SmartWay Excellence Awards, in part by aggressively reducing empty route miles and idling time to reduce emissions and maximize fuel economy.
"The Spot by Hirschbach team has been focused on bringing technology into the customer yards that we service, and Orange EV's electric yard trucks are an exciting next step for us to continue to do the right thing for our customer, our driver team, and the environment," said Kevin Lage, Hirschbach's Sr Director Commercial Team. "Our goal is to have 20% of our spotter fleet converted to EV by Q3 of 2023."
With its core business devoted to storing, handling, and transporting temperature-controlled food products in the United States, Lineage has long been focused on energy efficiency. The company participates in the EPA's SmartWay Transport Partnership. Lineage has also been recognized by the U.S. Department of Energy for four consecutive years and received a Better Project Award in 2022.
Orange EV's electric yard trucks have a maximum powertrain efficiency of more than 90%. At the Lineage sites in Kansas, Hirschbach operates Orange EV yard trucks up to 20 hours a day, 6 days a week. Under these conditions, switching from diesel to electric eliminates more than 100 tons of carbon dioxide per truck annually, along with diesel particulate matter, nitrogen oxides, and other pollutants emitted as a result of diesel combustion, the companies said.
To further reduce carbon emissions, Lineage has deployed 10 additional Orange EV yard trucks at sites in California.
New Orleans staged-accident scheme sees eight more sentenced
Eight more individuals have been sentenced for their roles in a widespread staged-accident fraud scheme in New Orleans.
On Feb. 15, Herbert Allen was sentenced to three years and a month in prison, followed by three years of supervised release, and Dion Ridley were sentenced to six months in prison, followed by a year of supervised release.
According to U.S. Attorney Duane A. Evans, Allen falsely claimed he was a driver of a car that was struck by a tractor-trailer on June 28, 2017. Ridley, a passenger in the car, falsely claimed that Allen was driving the car. Instead, others drove the car and intentionally collided with a truck. Allen was able to secure a $50,000 settlement from the owner and insurer of the truck, while Ridley received a $90,000 settlement.
Another three individuals were sentenced March 1 – Bernell Gale, Tanya Givens, and Dakota Diggs. Gale received three years of probation, while Givens and Diggs received five years of probation. Diggs was ordered to pay $11,000 in restitution, and Givens was ordered to pay $363,970.63 in restitution.
According to Evans, Givens conspired to stage an accident with a truck on March 27, 2017, then made claims of personal injuries with another passenger, receiving $272,500 for the fraudulent claims. Diggs and Gale were reportedly passengers in separate vehicles used in staged collisions on May 17, 2017, and claimed injuries as a result, receiving approximately $10,000 from the trucking and insurance companies.
Troy Smith was sentenced March 8 to six months in prison and three years of supervised release for his role in a staged accident on May 17, 2020. Smith was a passenger in a car that collided with a tractor-trailer and falsely claimed the truck hit their car.
On March 22, Marvel Francois was sentenced to five years of probation, 100 hours of community service, and ordered to pay $20,654.48 in restitution in relation to a May 17, 2020, staged accident in which Francois falsely reported to police that she had been driving her Dodge Durango and that a truck had struck the car.
Finally, Troylynn Brown was sentenced March 29 to two years in prison and three years of supervised release. According to Evans, Brown falsely claimed that her codefendant, Herbert Allen, was the driver of a car that was hit by a truck on June 28, 2017. The car was driven by someone else, and Brown subsequently lied in a civil deposition, claiming that Allen was driving the car. She also secured a $70,000 settlement from the owner and insurer of the truck.
Minnesota trucking group launches campaign to drive interest in trucking
The Minnesota Trucking Association Foundation (MTAF) announced Tuesday the launch of the Drive the Difference: Trucking Careers, Powered by People campaign, designed to boost interest in Minnesota trucking careers.
The campaign includes a dynamic new website and a coordinated, ongoing social media campaign to drive young people and their parents, mid-career changers, women, and under-represented populations to consider a fulfilling and lucrative career in the Minnesota trucking industry.
The project was undertaken by MTAF in response to MTA members identifying the driver and technician shortage as one of their top challenges, year after year.
The campaign's website includes descriptions of all kinds of trucking jobs, links to schools, and videos featuring real MTA member companies and testimonials from their drivers, technicians and behind-the-scenes employees. The ongoing social media campaign will utilize Facebook, Instagram, LinkedIn, TikTok, and YouTube as well as ads on Pandora and Spotify to help drive people to the website.
The Minnesota Trucking Association Board of Directors donated $110,000 to the foundation to launch the multi-year campaign.
Tenney Group adds new EVP
Transportation and logistics M&A advisory firm Tenney Group has named Meghan Meurer its Chief Commercial Officer. Based in St. Louis, Meurer will be responsible for leading all sales and marketing activities at Tenney Group.
Meurer's career encompasses 12 years of expertise in supply chain experience, including her most recent position as the Executive Vice President of Sales at the $1.5B privately-held transportation cooperative, UniGroup (CCJ Top 250, No. 35).
"We are ecstatic to have Meghan join the Tenney Group," said Spencer Tenney, "Her experience in the transportation industry will not only enhance our team development but will also play a big role in driving our mission at Tenney Group to help transportation owners exit on their terms."