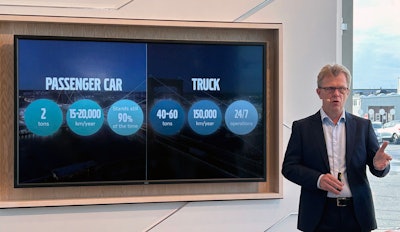 There's a race in transportation to get to zero tailpipe emissions, and Volvo Trucks intends to be waiting at the finish line for motor carriers, many of which haven't yet even laced up their shoes.
Volvo Trucks President Roger Alm, speaking to journalists at his company's headquarters in Gothenburg, Sweden – and just a few feet from where Volvo started building cars nearly 100 years ago – said the century-long headstart the internal combustion engine (ICE) has over battery electric will soon be no advantage at all.
"I think we have come quite far in these last 100 years," he said. Across all its truck brands (Volvo, Renault and Mack Trucks), the company has more than 2,300 service points in 150 countries and 1.2 million trucks running worldwide. The U.S. is Volvo's largest market for trucks.
"We cannot handle the climate situation that we have today," Alm said. "We have to change our way of living because if we don't, we may not have the blue sky conditions that we have today."
Alm noted Volvo is in the beginning stages of helping transportation get to zero net emissions – a new evolution for trucking but not unlike anything the industry has ever seen before. For example, he said from 1900 and 1915, the streets of New York went from being overrun with horse and buggies to cars.
"That transformation was done to be more efficient," he said. "Now we need to do that transformation for the climate situation."
Already underway
Volvo has six electric models in serial production globally and it has sold more than 6,000 electric trucks into 42 countries to more than 1,000 customers. Being an early leader in battery electric has given Volvo a roughly 50% marketshare. The company expects 50% of its sales volume to be electrics by 2030 – roughly 75,000 trucks – and 100% net zero emission by 2040.
"We are selling battery-electric trucks everyday to our customers," Alm said. "I hear many customers say they have bought their last diesel trucks."
An electric transformation also means a business makeover for Volvo. The truck maker is already expanding its service offerings to cover the entire truck and battery ecosystem over its lifecycle.
Jessica Sandstrom, senior vice president of product management and sustainability, said Volvo Trucks' goal of 100% fossil-fuel-free by 2040 will lead to net zero total truck population by 2050, but the solution won't be one size fits all. Many segments, she said, will continue to use combustion engines, "but that doesn't mean those will be the combustion engines that we use today," adding those would be fired with other cleaner fuels.
Johan Larsson, vice president of Volvo Trucks' electromobility business development, said heavy construction and heavy transport will likely be the last ICE holdouts. Electrification isn't a one-size-fits-all proposition, which is why there are so many options to get there: hydrogen, battery electric and e-axles among them.
Senior Vice President of Projects and the Product Strategy Office Johan Lunden said science-based targets through 2030 include CO2 reduction goals, adding that electrification is at the heart of the transition and overcoming intermittency and the sheer magnitude of the transformation is the challenge of the century. He called electrification the "medicine" of decarbonization.
"We are convinced the future will include the combustion engine, even when we have to be fossil free," he said.
Hydrogen is a key source of energy and while hydrogen combustion has a lower overall cost, it still has a small amount of NOx emissions, leaving fuel cell as the only viable zero-emission offering where that is required.
For applications that will need ICE to one degree or another, Volvo is working with Westport to develop improved high pressure direct injection (HPDI) fuel rails "vastly more efficient than a spark ignited solution," Lunden said. Volvo has upwards of 15 partnerships with truck makers like Isuzu, Daimler and Traton, and technology companies like Aurora, Nvidia and Samsung.
Battery electric is the "most efficient solution," Sandstrom said, but has "added values" like reduced vibration and quietness. Fuel-cell electric is a bit earlier in the development cycle.
"We believe this a fuel that will be developed," she said, adding its use in other industries will likely be needed to drive infrastructure. "It's going to be important that it's green hydrogen because hydrogen itself is not zero emission. If we're going to have a net-zero truck, the production process of the truck should be net zero."
Volvo's fuel cell is under development in a joint venture with Daimler, Volvo's largest competitor. Sandstrom noted that's how important the march toward zero emission is; that it brought together two rivals to co-develop a solution.
Nearly half of all goods in the European Union travel less than 190 miles, well within the current range limitations of most battery-electric trucks.
"This means that we can electrify a lot of loads today," Sandstrom said, adding even fleets that say electric won't work for them, there's ways to electrify parts. "This is like an onion," she said.
Volvo is building 1,700 public chargers in Europe. In the U.S., the company has invested in a charging corridor in California and is working with Pilot Company to scale a charging network. To meet its emissions targets, Volvo will need Europe and the U.S. to heavily embrace zero-emission trucks the way many pockets of the two have embraced zero-emission cars. Sandstrom said she sees electric passenger cars as providing Volvo and trucking with a roadmap for how (and where) zero-emission transport can work.
A change in approach
As much as electrification will trigger the reinvention of how fleets spec a truck, it will also spur a new definition of its lifecycle.
Director of Environment and Innovation Lars Martensson said the company's idea of "circularity" is a departure from a linear approach to a vehicle lifecycle, where the truck is simply disposed of once its past its useful life.
"If we have resources and we extract them, why throw them away? We need to find ways to reuse and recycle these materials going forward," he said.
A circular economy prevents resource depletion, emissions and reduces waste, Martensson said.
"If we're going to sell more than 70,000 trucks by 2030, we need to secure the material for those trucks as well. When resources are cheap, we have a tendency to throw them away after their usage," he said. "When we look at a truck like this, we don't see a truck as waste at the end of its life. We see it as a resource."
Volvo has been using recycled metals in construction of its new trucks for many years and intends to increase recycled content from not only metals but also in polymers like plastic and rubber. Volvo's VNR Electric, for example, is 95% recyclable.
Volvo Energy Head of Sales and Services/Head of Sales Engineering Support Elizabeth Larsson said recycling and reconditioning will be a key part of truck electrification, but that process must be local and efficient.
"Batteries are a regional business," she said, adding the second life of the battery (reconditioning) can't take place overseas because that drives costs into a product whose best value proposition is that it's cheaper.
"All the handling cannot cost more than new batteries," she said.
Remanufacturing is taking the battery modules out and changing in new modules for a lower cost than a fully new battery and installing that pack into a truck. Repurposing, she said, is taking it out of the truck and placing it in a storage system. Each reduces waste, extends the life of the battery and keeps resources live and out of a landfill.
Larsson expects a 10-fold uptick in battery energy storage capacity by 2030.
Batteries propose a unique challenge in that many of these technologies are so new that they lack rigorously tested safety standards and, as with any cutting edge technology, it's expensive.
"(Electrification) is very costly. It is also very heavy and batteries are extremely sensitive," said Peter Granqvist, vice president of electromobility business development, adding batteries don't tolerate temperature swings and are subject to damage from vibration and road input. Granqvist said that many strides have been made to get more miles from batteries and that's also reduced cost. Changes in construction and chemistry have also improved range and reliability, and he expects those improvements to compound in the years ahead.