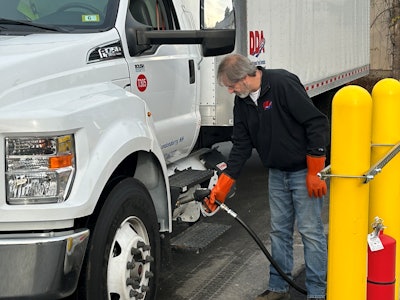 USPS mail contractor DDA Transport recently introduced six propane-fueled straight trucks to its fleet, part of an effort to reduce its carbon footprint without exposing the carrier to infrastructure challeges that plague solutions like hydrogen and full battery electric.
"Propane seemed to check all the boxes that we were searching for," said DDA Transport President Dwayne Andreasen, and the company added half a dozen ROUSH CleanTech propane-powered Ford Super Duty F-750s to its fleet of more than 160 vehicles.
"Our fuel consumption is our biggest environmental concern," Andreasen added, "so the ability to lower this impact through propane autogas helps us achieve our short- and long-term goals."
Londonderry, New Hampshire-based DDA Transport anticipates saving $25,000 in fuel spending and up to an additional $15,000 in maintenance and uptime costs for each truck annually compared to their diesel models. Andreasen says they plan to use the cost savings to add more propane vehicles to their fleet. The company's goal is to achieve a 50/50 mix between diesel and propane autogas within the next few years.
The carrier worked with Ferrellgas to install an onsite propane station.
"We need onsite fueling because our trucks run on very strict schedules and are typically running from the early morning hours until the late evening," said Andreasen. "Ferrellgas not only provided the fuel but also worked out a cost-effective solution by incorporating a fueling station into a long-term fuel contract."
DDA Transport's delivery trucks travel 75,000 and 90,000 miles per year. Thus far, the drivers have praised the propane trucks for their smooth ride and quieter operation. "Operating in New England with frigid winters, we are looking forward to our propane trucks starting and running in the cold without fuel gel issues," said Andreasen.
Propane is finding a niche in support of mail delivery. Pennsylvania-based Nicholas Trucking in October held a ribbon-cutting ceremony to celebrate its three new propane autogas trucks.