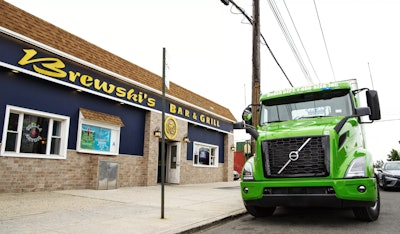 Volvo Trucks of North America
No matter the challenges, including ongoing supply chain constraints, Volvo Trucks Global is calling on fleets and policy makers to move forward and take the leap with them into the emerging and hopeful world of zero-emission electric trucks.
In its online presentation Tuesday dubbed The Leap, the Swedish truck maker pointed to climate change mitigation goals as a driving force behind its efforts to roll out electric trucks in the U.S. and Europe.
Volvo's push for electrification comes as OEMs shut down assembly lines due to an ongoing microchip shortage, which analysts say should have little impact on ambitious zero-emission vehicle production targets. Volvo is aiming for half of its truck sales to be fully electric by 2030, according to Volvo Trucks Senior Vice President of Management Jessica Sandstrom.
[Related: White House tasked with recognizing importance of commercial vehicles]
"By the time those electric trucks should hit the road, the semiconductor shortage should have also vanished," said Christiane Stein, IHS Markit associate director of global heavy truck research.
That's good news considering that "the chip requirements of electric vehicles are much higher" than conventional vehicles according to the Semiconductor Industry Association.
"The major issue is still charging infrastructure," Stein continued, "and where we get the power for electric vehicles. Alternative power, like solar and wind, will not be sufficient and reliable."
Volvo Trucks President Roger Alm called on companies and governments to invest in charging infrastructure.
"Investments have to be made into the infrastructure of charging," Alm said during the one-hour presentation that aired from Volvo Truck headquarters in Gothenburg, Sweden. "Politicians in various countries around the world need to make this move and to really make it happen.
"Other companies need to put money into this as well so we get a good charging infrastructure," Alm continued. "At Volvo Group, we are taking a big lead and making investments ourselves and building out our own public infrastructure of charging solutions."
Asking government to play a bigger role
Swedish-founded IKEA, which is now based in the Netherlands, has an ambitious goal of making 100% of its home deliveries all-electric by 2025.
"We can feel the sense of urgency and pressure," said Angela Hultberg, head of sustainability mobilty at IKEA, who called for greater government involvement in rolling out commercial EVs.
"We have to send a signal to policymakers to say that this is what we want as an industry. We want this to happen and we will do our part, but we need the policy to support that as well."
[Related: Tesla's Musk 'hopeful' Semi production starts in 2023]
Hultberg, a guest during Volvo Truck's presentation, said law enforcement could pave the way for zero-emission vehicles.
"As we see local policy makers, mayors and cities starting to enforce zero-emission zones, low emission zones, etc., this is a way for us to secure access to our customers which is of course crucial," Hultberg said.
Dr. Wilfried Aulbur, senior partner at global consulting group Roland Berger, said since "commercial vehicles are a major contributor to GHG emissions across the world" it's in the best interest of governments to push for cleaner vehicles.
"Clearly, regulatory action can accelerate this conversion," Aulbur said. "While this may drive up the cost of logistics during the transition period, it will help OEMs to reduce the complexity of their powertrain line ups.
"Today, OEMs need to prioritize investments across a number of powertrain technologies – optimization of ICE, electrification, hydrogen, and others," Aulbur continued. "This is a challenge and having regulatory initiatives that support the move out of ICE towards zero emission vehicles would help reduce complexity and cost."
Rich Mihelic, director of emerging technologies at the North American Council for Freight Efficiency, advised that while government involvement can prove helpful at a time when fleets are looking to reduce emissions, such action can also prove detrimental.
"The Biden administration has been vocal about supporting a transition for the industry to zero emission vehicles and is starting to put funding and policy in place to facilitate the transition," Mihelic said. "However, prioritizing freight vehicle production over other industries can have a range of unintended consequences.
"For example, prioritizing trucks over cars might seem an easy choice, but much of the freight needing delivery is actually tied to supporting automotive production," Mihelic continued. "Slowing down automotive plants further in favor of truck plants might just move the inventory from sitting in ships on the ocean to sitting in warehouses, and not actually help get the supply chains and the economy healthy again."