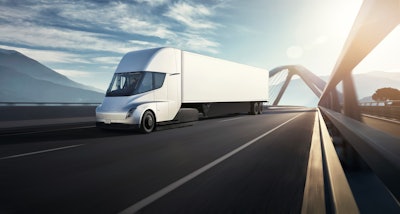 Tesla isn't immune to the semiconductor shortage that has plagued every vehicle for most of this year, and during a call Thursday with shareholders, founder Elon Musk cited widespread supply chain challenges among the issues hampering production of the company's thrice-delayed electric Semi.
Tesla in July said it would delay the debut of its electric Class 8 tractor to next year, marking at least the third time Semi truck production has been pushed back since it was unveiled in 2017, and Thursday Musk noted the calendar is likely to turn to 2023 before his electric big rig hits production.
Musk said this year has been "a constant struggle with parts supply," adding that if the company had more vehicle models to build, "we would not change our vehicle output at all because we were just basically limited by multiple supply chain shortages – not just chips. There were lots of supply chain shortages. So, it really wouldn't matter if we had the Semi ... we would not be able to make it.
"And the Semi in particular needs a lot of [battery] cells. It needs a lot of cells. A lot of chips. We've got to have enough otherwise, it is pointless," Musk said.
When semiconductors and battery cells do become available, Cybertruck will be the first new product to get them. Musk said he expects the company to kickoff production of its electric pickup "next year, and then reach volume production in 2023," he said, "and hopefully, we can also be producing the semi and the new Roadster in '23 as well. So we should be through our severe supply chain shortages in '23. I'm optimistic that will be the case. We will see."
When the sleek zero-emission tractor was unveiled in 2017 in Hawthorne, California – the home Tesla Motors' design center and company founder Elon Musk's SpaceX rocket factory – production was penciled in for 2019, and orders began to trickle in from the likes of UPS, FedEx, PepsiCo, Anheuser-Busch, J.B. Hunt, Walmart and others. In April 2020, Tesla said it would shift Semi deliveries to 2021 and last July – 15 months later – it was bumped into next year.