Trucking news and briefs for Friday, April 14, 2023:
Schneider completes first third-party Frito-Lay delivery on electric truck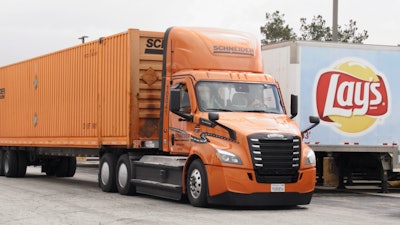 Schneider (CCJ Top 250, No. 9) was the first third-party fleet to haul a Frito-Lay shipment on an electric truck, Frito-Lay North America (FLNA) announced Thursday.
"Today's milestone shipment underscores the importance of cross-industry collaboration in building a more sustainable food system and achieving Frito-Lay and PepsiCo Positive's goal of net-zero emissions by 2040," said David Allen, vice president and chief sustainability officer, PepsiCo Foods North America. "As a company with massive scale, Frito-Lay looks for opportunities to create positive change – but we can't do it alone. By working with Schneider, we are taking an important step forward in our efforts to reduce value chain emissions and move our snack products in a more sustainable way."
An emissions reduction of more than 70% is expected this year from the initial EV routes, versus the same shipments on diesel trucks, which is equivalent to eliminating more than 180,000 miles driven by gasoline-powered passenger vehicles from the road, FLNA said. Initial shipments on Schneider's growing Freightliner eCascadia fleet will be intermodal inbound and outbound dray moves in southern California, including service to Frito-Lay's Rancho Cucamonga distribution center.
"As we roll out our fleet of almost 100 new battery electric trucks, we're thrilled to offer a cleaner mode of freight transportation to valued customers like Frito-Lay, who share our goal of operating in ways that are environmentally responsible," said Rob Reich, executive vice president and chief administrative officer, Schneider. "For decades, we have been committed to improving sustainability at Schneider, and we're proud to now be able to positively impact our customers' operations as well. Working together, we are decreasing the carbon footprint of shipments in southern California and making a positive difference."
Renewable natural gas use for transportation fuel on the rise
Natural Gas Vehicles for America (NGVAmerica) and Coalition for Renewable Natural Gas (RNG Coalition) announced Thursday that 69% of all on-road fuel used in natural gas vehicles in calendar year 2022 was renewable natural gas, surpassing the previous year's record-breaking level.
RNG use as a transportation fuel grew 17% over 2021 volumes last year, up 218% from 2018 levels. NGVAmerica and RNG Coalition reported that in 2022, a total of 663 million gallons of natural gas were used as motor fuel. Of that, 457 million gallons were from renewable sources.
"RNG-fueled heavy-duty vehicles are a scalable, affordable, and carbon-free-today solution for freight and transit fleets of all sizes," said Dan Gage, President of NGVAmerica. "And with the upcoming availability of a 15-liter engine option, commercial fleet applications with the biggest torque and horsepower needs will also be able to transition to ultra-clean renewable natural gas motor fuel and displace diesel, saving on fueling costs and slashing their greenhouse gas emissions."
P.S.I. launches TireView LIVE mobile app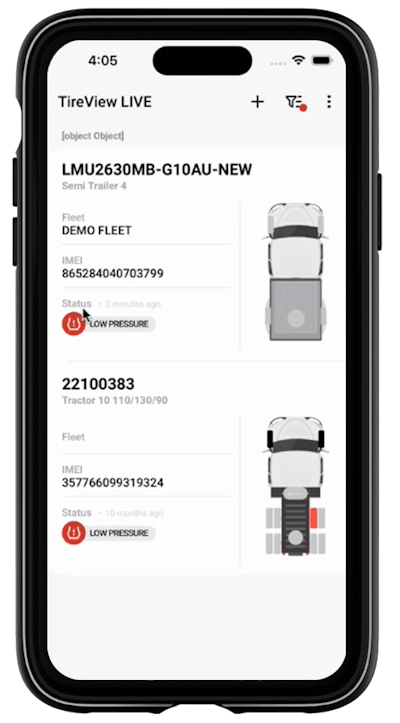 Pressure Systems International (P.S.I.) has released its TireView LIVE mobile app for Apple and Android devices, making many of the features and benefits of the data portal available from any location so fleets can make timely decisions about their tire management.
TireView LIVE delivers tire analytics with customizable alerts and reports communicating to commercial fleet operators the information required to manage their tire costs for trucks and trailers, online, in real-time. Now that accessibility is completely portable with information on mobile devices.
The TireView LIVE mobile app features include:
Tire alerts at a glance
Pre-trip tire inspections and post-trip analysis
Sort and share data to make best decisions about PM and in-transit repairs
Convenient over-the-air (OTA) updates and sensor pairing by capturing sensor QR codes using mobile device camera
View and drill down by region, terminal and vehicle type
Requests for customer and tech support can be made within the app
TireView LIVE account setup and integration requests can be accessed on the P.S.I. website.
Berkeley researchers seek feedback on fuel cell electric trucks
Graduate students at the Berkeley Transportation Sustainability Research Center are seeking industry input on a survey on hydrogen storage technologies for class 8 fuel cell electric vehicles (FCEVs).
The purpose of the survey is to gather perspectives from a diverse range of industry professionals, including those involved in truck manufacturing, hydrogen storage technology development, climate tech venture capital, and others.
Insights gathered will help the students identify the obstacles, challenges and opportunities related to the adoption of hydrogen storage technologies for class 8 FCEVs and inform future research and development efforts to make these technologies commercially viable.
The researchers note the survey should take about five minutes to complete.