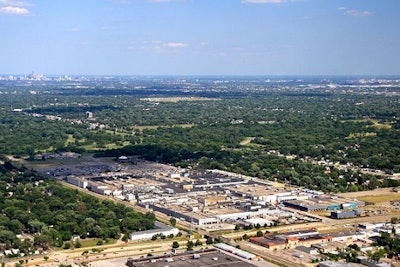 The state of Michigan last week said it is taking part in a prototype program to help companies to transition fleets to electric commercial vehicles (EVs) and will test new technologies, digital services and business models designed to accelerate deployment of commercial EVs at scale while modernizing the truck stop experience.
Michigan will have access to $13 million in funding to support development of the Mobility Charging Hub and secure partnerships with companies aiming to test and implement solutions related to EV innovation, fleet management and overall ease of travel. Initial project partners include Daimler Truck North America (DTNA) and DTE Energy.
"Freight trucks drive commerce, deliver goods and connect businesses throughout the nation, which is why it is critical to prepare this industry for the future," said Michigan Lt. Governor Garlin Gilchrist II. "Our Mobility Charging Hub will help more companies electrify their fleets, cement Michigan's leadership in the future of freight, and rebuild our transportation infrastructure to support the economy of tomorrow. Over the past five years, our administration has made progress investing in infrastructure and positioning Michigan as the best place to innovate the future, and we are taking that one step further with this 'truck stop of the future.' We will work with anyone to ensure more innovators and companies can make it in Michigan."
Located at DTNA's multi-acre Redford facility near I-96 – a location that sees more than 10,000 medium and heavy-duty commercial trucks travel daily across the state or across the state's borders into Canada – the site is already equipped with the necessary power, making it an ideal location for the Mobility Charging Hub. The program will also support passenger vehicle charging.
The Mobility Charging Hub will tackle solutions development through several multi-phased initiatives. In the first phase, the core infrastructure to support EV charging at the site will be established as a foundation. DTE will operate the core infrastructure of the Mobility Charging Hub – including EV charging solutions, solar canopies and battery energy storage systems, and will look to partner with third-party operators for value-added services. After successful demonstrated usage and commercial viability in the first phase, OFME and its partners will work to enable the Mobility Charging Hub as a platform for testing innovation, similar to sites like the Detroit Smart Parking Lab, Michigan Central, and the FLITE Program at Gerald R. Ford International Airport.
With $8,500,000 in federal funding support from a Rebuilding American Infrastructure with Sustainability and Equity (RAISE) grant award to Michigan's Department of Labor and Economic Opportunity, Michigan's Office of Future Mobility and Electrification (OFME) will also establish a grant program through the Mobility Charging Hub that will help fund future activations onsite.