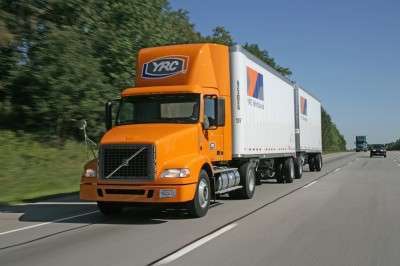 YRC Worldwide Inc. today, Feb. 11, announced that it has entered into definitive agreements with investors who have agreed to purchase $70 million in new unsecured convertible notes in a private placement. The company says it will use the proceeds from the issuance of these new notes to satisfy its remaining 2010 note obligations, with any excess proceeds available to be used for general corporate purposes. The new notes have a term of four years with an interest rate of 6 percent, which initially is payable in shares of the company's common stock.
The Overland Park, Kan.-based company expects the transaction to be fully funded into an escrow at closing to satisfy each of the company's two maturity obligations in 2010. The closing of the sale of the new notes is subject to a number of conditions, including the conversion of the company's preferred stock into common stock. The company expects that the closing would occur shortly after shareholder approval to increase the company's authorized shares to permit the preferred stock conversion. The company is seeking this approval at the upcoming special shareholder meeting on Feb. 17.
Upon approval, the company would issue the new notes in two tranches: The first tranche, $49.8 million, will be issued and funded out of the escrow at closing, with proceeds satisfying the remaining maturity of the 8½ percent guaranteed notes due April 15.; the timing of the issuance and funding of the second $20.2 million tranche is conditioned upon the conclusion of the litigation involving the disputed put rights for the outstanding 5 percent and 3.375 percent contingent convertible notes that were not tendered in the recently completed debt-for-equity exchange.
The company intends to continue to vigorously pursue removal of the put rights, and if the company is successful, the remaining $20.2 million will become available to the company from the escrow for working capital purposes; otherwise, the escrow will fund the proceeds to satisfy the 5 percent contingent convertible notes that exercise a put right on Aug. 8.
"We are pleased to announce this important step to satisfy our remaining 2010 note obligations," says Bill Zollars, chairman and chief executive officer of YRC Worldwide. "Upon the closing of this funding, our management team will be able to focus on operational improvements without the financial overhang related to these debt maturities that have concerned our customers in recent months. Both the company and our customers will be able to put this distraction behind us with the completion of this financing."