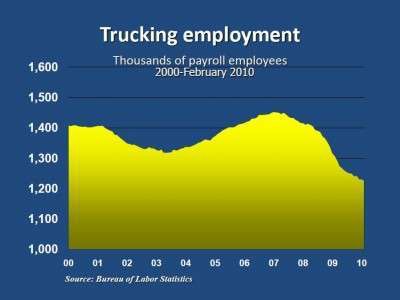 The for-hire trucking industry lost 4,300 jobs in February, and the industry lost jobs in January rather than gained them, according to revised seasonally adjusted figures from the U.S. Department of Labor's Bureau of Labor Statistics. Preliminary data released a month ago indicated that the industry had added 2,500 jobs in January. Instead, the latest figures show that jobs were almost flat from December at a 200-job decline. Payroll employment had dropped by 12,000 jobs in December.
Trucking employment in February was down nearly 81,000, or 6.2 percent, from February 2009. Preliminary data shows payroll employment of almost 1.23 million jobs – down 226,400, or 15.6 percent, from the trucking employment peak in January 2007. The BLS numbers reflect all payroll employment in for-hire trucking, but they don't include trucking-related jobs in other industries, such as a truck driver for a private fleet.
Nationwide, the economy lost 36,000 jobs in February, and the labor force is down 3.3 million, or 2.5 percent, since February 2009.