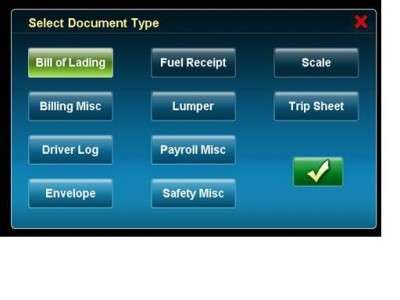 PeopleNet, a provider of Internet-based and integrated onboard computing and mobile communications systems, announced a partnership with ACS TripPak to provide in-cab imaging for the PeopleNet BLU in-cab PC.
The new offering, BLU In-Cab Scanning powered by TripPak Scanning, leverages PeopleNet's Pacos geofencing and automated messaging integration fleet dispatch systems and ACS TripPak's document management infrastructure.
When a driver arrives at a stop, the location, trip information (i.e. load number), stop name and arrival time are generated by way of Pacos integration with a fleet's dispatch system in the office.
When the driver scans each document at the stop location, BLU In-Cab Scanning will prompt the driver to enter the document type–such as bill of lading, toll receipt, etc., and what order number or stop the paperwork is associated with. This information eliminates manual labor by the driver and clerks in the office, says Kirsten Lester, PeopleNet Product Manager.
Combining in-cab scanning and automated indexing reduces document management and processing costs by 25 percent over truck-stop scanning, she says. The new offering is currently in beta testing and will be commercially available in June.