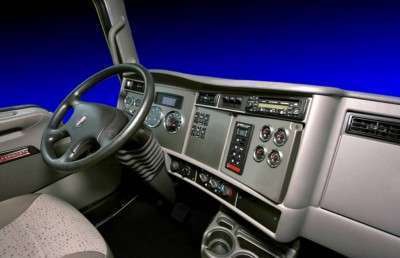 Kenworth Truck Co. made several announcements related to its medium-duty lineup Thursday, March 11, during a press conference at The Work Truck Show, which is sponsored by the National Truck Equipment Association. The company announced enhanced multiplex instrumentation, Kenworth Driver Information Center and modern dash styling; ratings for Paccar's 2010 PX-6 and PX-8 engines; and a 16,000-lb.-rated front axle for the T370.
Also, the company's T440 model made its public debut; Kenworth announced that it will add Bendix ESP (Electronic Stability Program), a full stability program, as an option on select medium-duty tractor and full truck applications with air brake systems; and the truck maker announced has its enhanced componentry packaging for its T270 Class 6 and T370 Class 7 diesel-electric hybrid models while also adding a new inverter design for 2010.
The new state-of-the-art multiplex instrumentation system – which can be ordered on all T170, T270 and T370 models with 2010 engines – provides increased serviceability and reliability with wiring behind the dash color-coded and numbered for easier servicing, and critical connections maintained with positive locking connectors. The system is supported by the Kenworth Electronic Service Analyst, a computer-based diagnostics tool that simplifies troubleshooting.
The multiplex system is incorporated into a more modern, visually appealing and ergonomic dash. A new speedometer and tachometer cluster features large 2-inch diameter gauges with chrome bezels, an engine hour meter, odometer, trip odometer and outside temperature gauge. A diesel particulate filter status indicator lamp, high exhaust-system temperature warning lamp and seatbelt reminder light are included. LED backlighting is used in the face plate and pointers, and the dash rocker switches contain LED indicator lights.
The Kenworth Driver Information Center provides instant trip access information for miles per gallon, engine and idle hours, idle percentage and optimum rpm range. A "sweet spot indicator" offers visual cues when the optimum rpm is reached, while a bar graph displays current mpg against trip average mpg.
The standard medium-duty dash panels are a high-quality gray cross-weave vinyl with silver and black accents; the door trim insert and louver trim remain black. Available as an option are dash panels that feature a Trust Walnut-colored woodgrain on the main dash panels as well as on the door trim insert and louver trim.
"The multiplex instrumentation increases performance and reliability," says Jason Skoog, Kenworth director of marketing planning and research. "The Kenworth Driver Information Center is a cost-effective technology tool to help enhance fuel economy performance and reduce operating costs. The new dash offers updated modern, clean styling and improved functionality."
The 2010 Paccar PX-6 and PX-8 engines both are available for the T270 Class 6 and T370 Class 7 models; the T170 Class 5 vehicle is available with the 2010 PX-6 engine. Ratings for the PX-6 are 200 to 325 hp with torque from 520 to 750 lb-ft, while the PX-8 offers 260 to 350 hp and 660 to 1,000 lb-ft of torque for heavier loads and severe grades. Both engines now feature a high-pressure common-rail fuel injection system, improved cooled exhaust gas recirculation, patented variable geometry turbocharger and a new aftertreatment system.
For 2010, Kenworth offers three diesel exhaust fluid tank options for the medium-duty market. Useable DEF capacities are 6.6, 9 and 18 gallons, which provide diesel fuel capacities of 110, 150 and 300 gallons, respectively. Four exhaust options – right-hand (passenger) side under the cab, horizontal, horizontal in-series and vertical independent – are available for medium-duty vehicles equipped with the PX-6 and PX-8 engines.
"The 2010 Paccar PX-6 and Paccar PX-8 engines offer enhancements in torque and horsepower options, which will provide greater benefits to Kenworth customers in a variety of medium-duty applications," Skoog says. "Both engines feature a fully integrated electronic control system for increased power density, enhanced reliability and serviceability, and optimized performance."
The 16,000-lb.-rated front axle for the T370 includes taperleaf springs, a choice of single or dual steering gears, and up to 315 series tires. "Our new axle rating for the Kenworth T370 broadens our commitment to support medium-duty vocational applications, such as fuel hauler, dump, mixer, utility, service truck and others, which require a heavier front axle to get the job done," says Gary Moore, Kenworth assistant general manager for marketing and sales.
Meanwhile, Kenworth now is accepting orders for its versatile T440 model, with production scheduled to begin during the second quarter. The T440 made its public debut at The Work Truck Show and was displayed in a dump truck configuration.
"The exceptionally versatile Kenworth T440 is available in tractor and truck configurations for numerous vocational, regional haul, pickup-and-delivery and municipal applications," Skoog says. "The T440 provides a quality product for vocational and municipal customers who require a heavy front axle for dump, mixers and fire trucks. Fleets and truck operators in heavy front-axle pickup-and-delivery and regional haul benefit from the T440's excellent aerodynamics, productivity and value."
The T440 has a GVW ranging from a heavy Class 7 vehicle at 33,000 lbs. up to a light Class 8 truck at 68,000 lbs. Emergency fire truck ratings are available on both the standard PX-8 engine, rated to 350 hp and 1,000 lb.-ft. of torque; and the optional 9-liter 2010 Cummins ISL engine, rated to 380 hp and 1,300 lb.-ft. of torque. The T440 offers 6-, 9-, 10-, 11- and 13-speed manual and 5- and 6-speed automatic transmissions; and 12,000- to 22,000-lb.-rated front axles, 21,000- to 30,000-lb.-rated single-rear axles, and 40,000- to 46,000-lb.-rated tandem-rear axles.
The T440's modern styling features an aerodynamic sloped hood, which gives the driver enhanced forward visibility. A tapered channel bumper, Kenworth signature grille and forward lighting with Halogen projector headlamps are standard equipment. An aluminum or 3-piece aerodynamic bumper and high intensity discharge (HID) lighting are available as options.
The T440 offers the same multiplexed dash installed in Kenworth's Class 8 product line with a large panel for convenient installation of body controls and gauges. The Kenworth Driver Information Center is standard in the T440. The optional, spacious Extended Day Cab enhances driver comfort with an additional six inches of length and five inches of cab height compared to the company's traditional day cab. The T440 can be ordered with the air ride cab and a 38-inch AeroCab sleeper. Also available are factory installation of a power take-off (PTO) and one lift axle.
Kenworth currently offers Bendix ESP for the Kenworth T660, T800 and W900 Class 8 models in select applications. In addition, the Bendix ABS-6 braking system is standard for Kenworth Class 5-8 models in tractor and full truck configurations with air brake systems. "Kenworth continues to expand its offering of technology systems to help our customers achieve success in their specific operations," Skoog says.
According to Bendix, its full stability technology is designed to help stabilize the vehicle during loss of control situations on dry, wet and snow- and ice-covered roadways and assist in mitigating a potential rollover. In addition to using sensors that monitor lateral acceleration found on some roll-only systems, the Bendix ESP system also uses sensors to monitor steering angle and vehicle direction, allowing for detection of a vehicle's impending loss of stability and automatic intervention through dethrottling of the engine and selective application of tractor steer and drive axle brakes, along with trailer brakes, helping the driver to maintain control of the vehicle in a variety of situations.
Kenworth has placed all its hybrid components – including the starter batteries, chassis load center, cooling package and new inverter – into one battery box located underneath back of cab on the driver side. The Eaton diesel-electric hybrid power system is located on the left frame rail forward of the rear axle. Kenworth also offers 9-foot-long high-power cables that allow body builders to relocate the power system to maximize frame rail space. These locations help provide easy access and the best set of options for customer frame requirements.
"We feel that Kenworth hybrids definitely have the best and cleanest chassis packaging in the industry for 2010," Skoog says. "Our efficient component packaging and convenient location makes it much easier for body builders to do their installations and enhances customer service for Kenworth T270 and T370 hybrid straight trucks and tractors."
The new inverter offers improved DC/DC cable clearance, which is especially useful for utility customers, enhanced power distribution center with easy access to fuses that are now closer to the power source, and improved access and cable pass through. Kenworth offers a body builder power distribution module as an option; this module provides dedicated body builder battery power and ground in a convenient, easily accessible package mounted to the aft side of the battery box.
Kenworth hybrid tractors, available up to 55,000-lb. GCW, are for local haul applications, including beverage, general freight and grocery distribution. Kenworth hybrid trucks are for pickup-and-delivery, utility and service applications. Kenworth's goal is to enhance fuel economy by up to 30 percent in both pickup and delivery and hybrid tractor applications and up to 50 percent in utility operations. The company's hybrids use an integral transmission-mounted motor/generator; frame-mounted 340-volt lithium-ion battery pack; and dedicated power management system. Electricity generated through regenerative braking is stored and used for acceleration, assisting the diesel engine. Kenworth offers a high-resolution full-color in-dash display to monitor the hybrid system; as the power requirements for different driving conditions change, the screen constantly updates the driver on system status, allowing the driver to optimize the performance of the hybrid system.