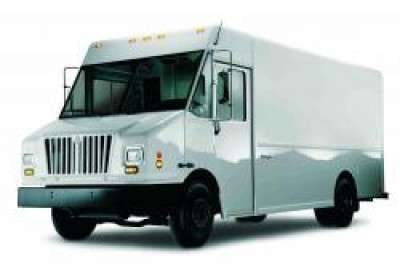 At this week's National Truck Equipment Association Work Truck Show in St. Louis, Workhorse Custom Chassis, an affiliate of Navistar International Corp., displayed one of the first UPS delivery trucks built on an upgraded W62 gasoline-powered chassis. The Workhorse gas chassis features the improved 6.0-liter GM Vortec gasoline engine designed to achieve up to 20 percent better fuel economy than the previous 8.1-liter Vortec gasoline engine for Workhorse's W62 models, rated at 17,000-, 19,500- and 23,500-lbs. GVWR.
The UPS truck is one of a number of units built on the W62 gas platform that UPS will use to evaluate fuel economy for its duty cycle. Production of the 2011 W62 model will begin this summer. The 6.0-liter V-8 gasoline engine uses variable valve timing and an Allison 5-speed 1000HS transmission, among other features, to achieve improved fuel economy; it also comes with several extended warranty options.
Workhorse also has begun offering the new 2010 6.4-liter MaxxForce 7 diesel powertrain for its 2010 W62 diesel platforms. Workhorse's 2011 models will feature the MaxxForce 7 with MaxxForce Advanced EGR (exhaust gas recirculation) technology.
"We like to say that our chassis work hard so you don't have to," says Jim Gavaghan, Workhorse vice president of sales, service and warranty. "The fact that we offer both gas and diesel choices, with durable and dependable platforms powered right for the job, makes it easier for commercial walk-in truck users to meet their bottom line – both in terms of fuel consumption and work efficiency. Furthermore, we can back that up with extended warranty programs and an established service network that combines our well-known expertise for gas-powered options with Navistar-based expertise in diesel powertrains. Making reliable and durable gas options available for higher GVWR trucks, taking advantage of the latest fuel-efficient technology, making it easier for fleets to spec the right truck for the right job, is all part of the innovation Workhorse is dedicated to providing walk-in truck users."