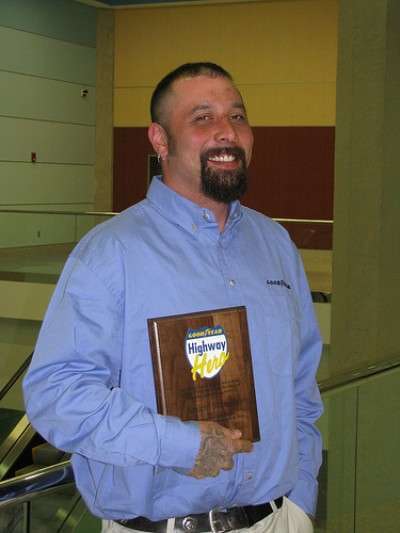 An Oregon truck driver who helped save the lives of three people involved in a fiery traffic accident, including a driver who was trapped in his burning vehicle, was awarded the 2009 Goodyear North America Highway Hero.
Junichi Shimizu, of Gladstone, Ore., accepted the award and a $10,000 U.S. Savings Bond Thursday, March 25, in Louisville, Ky. Shimizu was selected along with three other truck drivers as finalists for the 2009 award.
On Feb. 20, 2009, Shimizu, a driver for Chipman Relocations, was driving westbound on Highway 12 near Fairfield, Calif., and witnessed a vehicle cross the centerline and strike an automobile in front of his truck. The auto spun into the ditch, and the other vehicle then hit his tractor twice before bursting into flames.
Shimizu called for assistance and then headed to the vehicle that was in flames. He, along with another motorist, freed the driver and carried him to safety. Running to the other car, Shimizu saw the driver was deceased, but two injured passengers were inside. After the passengers were removed, Shimizu used his fire extinguisher to keep the blaze under control until the local fire department arrived.
Shimizu also was recognized by the California Highway Patrol with a certificate of commendation for his role in the lifesaving effort associated with the 2009 crash.
Other finalists included:
George Lantzy, of Turtle Creek, Pa., a driver for Fubar Trucking, who maneuvered his tractor-trailer alongside a car driven by a woman who had suffered a heart attack. He allowed the car to contact the rear of his trailer, creating an impromptu roadblock and easing the woman's car away from a potential accident.
Stephen Page, of Gloucester, Mass., a driver for Pit Bull Trucking, who spotted a fire in the woods alongside an interstate. He and another driver ran into the woods to find the burning wreckage of a double-unit rig that gone nearly 1,500 feet off the highway. With the help of two more truckers, the injured driver was removed before the tractor and trailer were destroyed by fire.
Jesse Lee Seal, of Alma, Ark., a driver for PDP Unlimited, who was driving his 18-wheeler when another truck ahead of him abruptly went off the highway and caught fire. Seal grabbed his fire extinguisher and extinguished a burning fuel tank. At the disabled truck, he put out a fire that was burning the driver's legs and removed the injured driver.
To nominate a professional truck driver for the 2010 Goodyear Highway Hero Award, go to www.goodyear.com/truck/news/hero.html.