Dynamic views
Visual dispatch packs more data onto a single screen
Flexible screen views are one of the hallmarks of updated dispatch software systems. With Windows, Java and similar software platforms, users are able to move and resize columns and add color coding, icons and other visualization tools to put more information onto one screen without taking up additional real estate.
Previous versions of software platforms relied on character-based views to display information. To help users better organize an abundance of onscreen data, the industry first tried making the text different colors, but that began to make a screen unreadable.
"Icons and pictures are much more effective and flexible than colors in communicating large amounts of critical information with the end user," says Steve Blair, general manager of TransCore's Logistics Software. "It really is true that a picture is worth a thousand words."
Maps have become one of the most popular visual tools in dispatch software. Software developers use digital maps to overlay additional data so users can see information geographically. With a mouse click, users can drill down to find more details about a particular asset, driver or customer.
TMW Systems is integrating Navteq map data to bring new geographic visualization and routing tools to its customers. The development program will be released later this year as an add-on product to TMW's enterprise systems that include TMW Suite, TruckMate and the Innovative Enterprise System.
Dispatchers will be able to use the new mapping product to visualize the current location and position history of assets. They also will be able to use Navteq's advanced street-by-street mapping and routing capabilities to calculate more accurate distances, ETAs and out-of-route mileages.
TMW also is working to offer turn-by-turn navigation on its D2Link application for GPS-enabled wireless phones. The mobile D2Link application integrates with dispatch systems to update trips and send dispatch assignments to drivers.
Map views work best for desktop monitors, but some people want access to dispatch systems from their cell phones, notebooks and other mobile devices. Aljex uses the Google Maps application as an underlying database for its TIN Software, a visually oriented dispatch system hosted on the Internet. Users quickly can change their screen view to a "non-map" version to view shipment information in a spreadsheet style that fits the screen size of mobile devices, says Tom Heine, Aljex president.
Software that combines graphical analysis tools, often called dashboards, with map views in a single-screen helps dispatchers and managers organize their workflow, says Rick Pontin, chief executive officer of Airclic, a provider of mobile applications.
Airclic recently added dashboards to maps views of business operations. For instance, dispatchers and managers can use the graphical dashboards to segment drivers into different groups, analyze the activities of each group and the exceptions around those activities, Pontin says. They can also see how efficient an individual driver or driver group is relative to the routes they run and stops they make.
Some software developers are using mapping technology to create Internet-based transportation networks where carriers, shippers and brokers can have real-time visibility of available assets. The Transfusion Network (www.transfusionnetwork.com) is based on Qualcomm's mobile communications system. Members of the network are able to form partnerships among asset-based carriers using Qualcomm.
Maps are a popular visual tool in dispatch software.
Shippers and carriers can send notifications when they find a power unit or order that is of interest. The power/order match process is done through the system via a tender/acknowledgement process. When a power unit is assigned to an order, the unit's location is visible to the shipper for the duration of the order, says Bob Stemple, vice president and general manager of the Transfusion Network.
The Gantt chart or timeline is another popular dispatch visualization tool. Load planners and dispatchers can use a timeline view to match orders with equipment and drivers by visualizing their drivers' work schedules. The drivers are listed on the left side of the screen, and their load assignments span the right side of the screen in a horizontal timeline.
McLeod Software includes a Timeline Dispatch screen view in its LoadMaster enterprise system. The feature lets load planners and dispatchers overlay orders and driver schedules onto a timeline to determine the best match. Users can flip back and forth to see their dispatch information in either a column or timeline view.
With the latest visualization tools from dispatch software providers, managers can see the real-time impact of their decisions on customers, drivers and the bottom line.
In brief
* Xata Corp. (www.xata.com) struck a reseller partnership with SpeedGauge, a commercial vehicle GPS data provider for speed tracking and analysis. SpeedGauge will be added to the Xatanet application suite in late spring.
* Qualcomm (www.qualcomm.com/qes) announced that both FedEx Custom Critical and Marten Transport selected its Mobile Computing Platform 200 Series (MCP200) for their fleets.
* Asset Intelligence (www.id-systems.com/assetintelligence) announced three new products in its VeriWise line of trailer management solutions. VeriWise Track and Trace is a basic position tracking product that features a low-cost device, quick and easy installation and a long-life battery. VeriWise Domestic Intermodal Container features ubiquitous North American satellite coverage and superior power management. And VeriWise Reefer Control allows remote startup and settings changes for Thermo King and Carrier units.
* McLeod Software (www.mcleodsoftware.com) added the "Vital Signs" customizable reporting function to its LoadMaster IX base software system to help carriers better identify and manage key operational metrics. Separately, McLeod said that its software products – LoadMaster, PowerBroker and DocumentPower Enterprise – in 2009 reached the highest annual revenue total in the company's 25-year history.
* TMW Systems (www.tmwsystems.com) announced it signed 140 customers to new software contracts in 2009, including new customers as well as existing customers taking advantage of the broader range of integrated product offerings available because of TMW's acquisitions of other companies.
Qualcomm adds Analytics Manager to product suite
Qualcomm, a provider of business-to-business wireless enterprise applications and services, added the Analytics Manager service to the Qualcomm Transportation Services suite. The service will offer fleets a holistic view of driving performance to help carriers run their businesses more efficiently and safely, the company says. The Analytics Manager will provide a critical-event reporting dashboard, driver safety reports and scorecards, as well as key industry benchmarking. The service is expected to be available on multiple Qualcomm platforms this fall.
To offer additional functionality to help fleets control costs and improve routing, Qualcomm also announced Maptuit's NaviGo Fuel and NaviGo Hazmat add-ons to its NaviGo In-Cab Navigation service on the Mobile Computing Platform Series. Maptuit's NaviGo, available on Qualcomm's MCP 100 and 200 Series, is a near real-time hybrid in-cab navigation solution that uses both onboard and server-based computing power to provide accurate maps and truck-safe routes.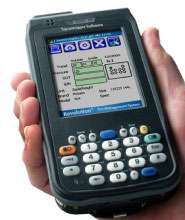 Squarerigger opens 'Revolution' in tire management
Squarerigger Software (www.squarerigger.com) released its Revolution tire management system, a standalone product to supplement any fleet maintenance management system. Revolution uses mobile and server-based software, wireless handheld PCs and electronic data collection methods to eliminate paper from the tire-tracking process, the company says. n