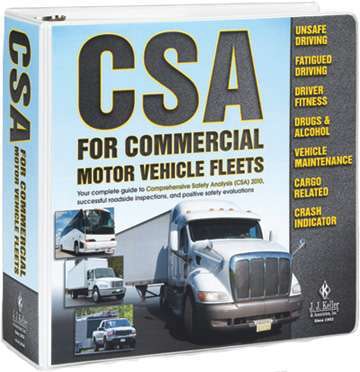 J.J. Keller's manual "CSA For Commercial Motor Vehicle Fleets" (197-M) is designed to help for-hire carriers and private fleets survive and thrive under the Federal Motor Carrier Safety Administration's Comprehensive Safety Analysis 2010. The 800-page manual explains how companies' safety data is collected, measured and evaluated under the new system, and includes best practices, applicable regulations, lists of top violations, roadside inspection procedures and out-of-service criteria. Specific topics include:
• How CSA 2010 differs from SafeStat;
• What new interventions a company could face;
• What new enforcement procedures were created by the initiative;
• How roadside inspections will affect a company's Behavior Analysis Safety Improvement Categories (BASICs) scores;
• What new measurements will be used to determine a company's safety evaluation;
• How to perform self-audits; and
• What BASICs are and how they affect your safety ranking.
"CSA For Commercial Motor Vehicle Fleets" is available for $229 by calling 800-327-6868 and referencing Action Code 31006 or by going to jjkeller.com/31006.