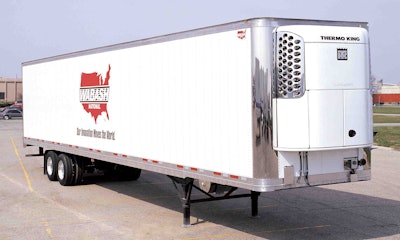 Wabash National Corporation has confirmed a three year purchase agreement with Prime Inc., one of the largest refrigerated carriers in North America for 4,000 ArcticLite reefer trailers.
"We're excited to continue our successful relationship with Wabash National. Our purchase of their ArcticLite trailers has helped provide Prime's customers with unmatched temperature control," said Robert Low, Prime's founder and Chief Executive Officer. "These thermally efficient and lightweight trailers are equipped with the latest technology to maximize product protection, while reducing our carbon footprint and conserving energy. The superior design of these trailers enables us to maximize cargo weight and cubic capacity. We remain committed to our quest of providing our customers with the most productive and reliable equipment available."
"Once again we are pleased to partner with one of the nation's premier refrigerated carriers, Prime Inc.," added Dick Giromini, Wabash National's President and Chief Executive Officer. "Their continued support of the benefits of our ArcticLite refrigerated van confirms the quality and performance of this product."
Headquartered in Lafayette, Ind., Wabash National Corporation and established in 1985, the company specializes in the design and production of dry freight vans, refrigerated vans, flatbed trailers, drop deck trailers, dump trailers, truck bodies and intermodal equipment. Its innovative core products are sold under the DuraPlate, ArcticLite, FreightPro, Eagle and Benson brand names. The company operates two wholly owned subsidiaries; Transcraft Corporation, a manufacturer of flatbed, drop deck, dump trailers and truck bodies; and Wabash National Trailer Centers, trailer service centers and retail distributors of new and used trailers and aftermarket parts throughout the U.S.