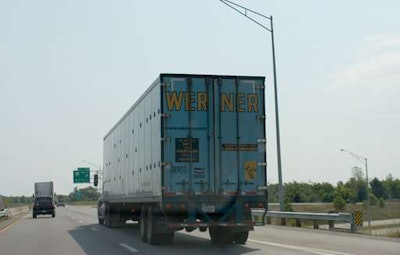 Werner Enterprises on Monday, April 19, reported revenues and earnings for the first quarter ended March 31. Revenues increased 8 percent to $425.1 million in first quarter 2010 compared to $394.5 million in first quarter 2009. Trucking revenues, excluding fuel surcharges, decreased 1 percent to $303.7 million compared to $308.0 million. Value Added Services ("VAS") revenues increased 29 percent to $61.4 million compared to $47.5 million. Earnings per diluted share increased 56 percent to 15 cents per share compared to 10 cents per share.
The Omaha, Neb.-based company said that in first quarter 2010 that daily prebooks (ratio of loads to trucks) in its one-way truckload fleets were significantly better than first quarter 2009, which was one of the weakest freight quarters in the last 20 years. Daily number of accepted loads in first quarter 2010 also was better than first quarter 2009, 2008 and 2007 and trended similar to first quarter 2006. As a result of improved load counts, spot market pricing in one-way truckload (a small percentage of total revenue base) improved significantly during first quarter 2010. Pricing for the much larger book of contractual business remains competitive but is clearly beginning to improve.
"We are in the early stages of upgrading our freight mix and are becoming more selective with our freight choices," the company said. "We intend to keep our fleet size constant at approximately 7,300 trucks for the foreseeable future and focus on improving our returns on assets and invested capital, with the goal of raising our revenue per mile and equipment utilization, while also maintaining the cost improvements we achieved over the past year. We believe that more of the recent improvement in the freight market can be attributed to decreasing supply than rising demand. We have observed an increase in the size and quantity of carrier failures in recent months. Gradually improving demand is also helping, and we anticipate that steady improvement will continue as we progress throughout 2010."
Werner said it continues to diversify its business model with the goal of a balanced portfolio of One-Way Truckload (which includes the Regional, medium-to-long-haul Van and Expedited fleets), Dedicated and Logistics. The company said its specialized services division, primarily Dedicated, grew 150 trucks during the quarter to 3,450 trucks as a result of new customer business awards.
The company said it also realized gains on sales of assets of $1.1 million in first quarter 2010 compared to $0.7 million in first quarter 2009 and $1.3 million in fourth quarter 2009, primarily from trucks and trailers sold by Werner's wholly-owned subsidiary, Fleet Truck Sales. "Buyer demand for used trucks remains low, but we believe the market has stabilized," the company said.