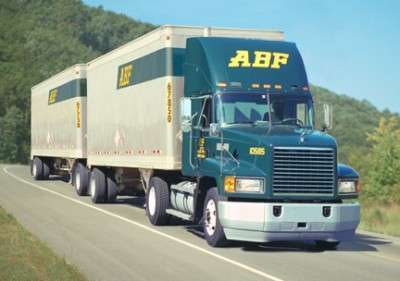 Arkansas Best Corp. today, April 23, announced a first-quarter 2010 net loss of $21.4 million compared to a net loss of $18.2 million. Revenue was $359.9 million, a per-day increase of 5.1 percent from $339.7 million.
"Despite some signs of improvement in our nation's economy resulting in the stabilization of our business, Arkansas Best's first-quarter results illustrate the ongoing effects of low freight levels combined with a weak pricing environment," said Judy R. McReynolds, president and chief executive officer of the Fort Smith, Ark.-based company. "We have continued our focus on long-term profitable growth and the customer-service-level commitments it takes to accomplish this objective. We are encouraged by the first-quarter increases in ABF's tonnage versus very low totals last year. However, in order for ABF's operating results to improve in a meaningful way, we need further increases in freight demand, strong improvements in pricing and the positive financial impact of wage concessions."
ABF Freight System reported:
• Revenue of $333.0 million compared to $323.1 million, a per-day increase of 2.2 percent;
• Tonnage per day increase of 3.3 percent;
• Total billed revenue per hundredweight of $23.61 compared to $23.85, a decrease of 1.0 percent despite a year-over-year increase in fuel surcharge levels;
• Operating loss of $35.7 million compared to an operating loss of $26.8 million; and
• Operating ratio of 110.7 percent compared to 108.3 percent.
"ABF continues to offer efficient and targeted solutions that address the specific needs of our customers," McReynolds said. "We have successfully laid the groundwork to strengthen our share in both the long-haul and regional LTL markets, and we are well-positioned to leverage the superiority of our operational, sales and technology platforms in order to benefit our customers."
Earlier this week, ABF and the leadership of the Teamsters union tentatively agreed on 15 percent wage concessions and an "Earnings Plus" plan that pays the company's union and nonunion employees when ABF's operating ratio reaches certain profitable levels. "We are pleased about this tentative agreement, which has the overwhelming endorsement of the Teamster leadership," McReynolds said. "It offers ABF the opportunity to adjust its cost structure to be more comparable with the LTL marketplace. We encourage all ABF union employees to vote in favor of this much-needed wage concession and the 'Earnings Plus' plan."