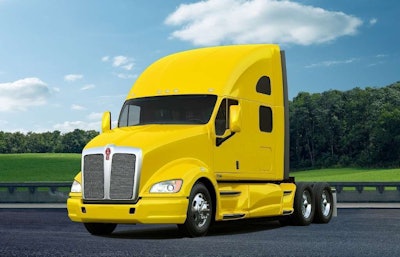 The Kenworth T700 and Paccar MX Engine Tour recently opened at Kenworth dealers, and the truck maker says that initial response from customers and dealers has been excellent. During the tour's opening week, a total of more than 600 customers came to dealer stops in Portland, Ore., and Anderson, Sacramento and San Leandro, Calif. They were there to see the new Kenworth T700, which the truck maker says is the most aerodynamic truck in its history, and the Paccar MX engine designed for excellent fuel efficiency, low cost of ownership, high reliability and durability, and lightweight design.
"It's really a great 1-2 punch, and Kenworth and Paccar are leading the way in truck design and engine technology," says Mike Pati, general manager for Papé Kenworth – Portland, which hosted the tour's opening stop. The event included an open house with a ride and drive, supplier trade fair and clean air seminar for customers with operations through California.
"We had a huge turnout, which showcased our full product line of Kenworth trucks and new technology," Pati says. "The biggest draw was the Kenworth T700 and Paccar MX engine. The new Kenworth NavPlus system also really raised some eyebrows with the wide range of features and functionality. It's clear, as we see the industry and orders for trucks rebounding, that this is the right truck and engine at the right time. As a dealer, we couldn't be more excited, and that's being mirrored in customer response."
Beginning this summer, the Kenworth T700 will be available with the Paccar MX engine, which the company says has accumulated more than 50 million test miles in rigorous and severe conditions in North America. It is available with a power range of 380 to 485 hp and torque output up to 1,750 lb.-ft.
"Customer response was fantastic at our three dealer locations in Anderson, Sacramento and San Leandro," says Tom Bertolino, dealer principal at NorCal Kenworth – Sacramento. "The smooth lines and look of the T700, coupled with wide cab interior package with 75-inch Aerodyne sleeper, got their attention, as did the new Paccar MX engine. We expect both products to do very well in the market."
According to Harry Mamizuka, dealer principal for NorCal Kenworth – Bay Area in San Leandro, Calif., there is a pent-up demand for new trucks. "Customers are realizing they haven't bought many new trucks over the past few years, and they need to get into new equipment to keep their operations running efficiently," Mamizuka said. "Plus, they need to be CARB-compliant. We saw a lot of excitement from our customers viewing the new T700 and Paccar engine at our tour event. They see how Kenworth is leading the way. The advent of the T700 and Paccar engine – coupled with our hybrid, CNG and LNG truck offerings – makes us well-positioned in the market."
The Kenworth T700 and Paccar MX Engine Tour will visit nearly 90 dealer locations in the United States and Canada through September. In addition to the T700 and Paccar MX engine, the tour features displays and information on Kenworth NavPlus and the truck maker's AG130 front air suspension. The Eaton UltraShift Plus automated transmission also is showcased.
Upcoming tour stops beginning in May include visits to MHC Kenworth dealerships in Oklahoma City (May 3); Tulsa, Okla. (May 4); Little Rock, Ark. (May 5); Van Buren, Ark. (May 6); Springdale, Ark. (May 7); Joplin, Mo. (May 10); Kansas City, Mo. (May 11); and Columbia, Mo. (May 12). The tour travels to Kenworth of St. Louis in Fenton, Mo. (May 13), before making Illinois stops at Central Illinois Trucks, Normal, Ill. (May 14-15); Quad Cities Kenworth, Rock Island, Ill. (May 18); and CIT Kenworth Chicago, Joliet, Ill. (May 19). Indiana and Ohio stops during the month are at Whiteford Kenworth in South Bend, Ind. (May 20), and Perrysburg, Ohio (May 21); Fort Wayne (Ind.) Truck Center, (May 24); Kenworth of Indianapolis (May 25); Kenworth of Cincinnati (May 26); Kenworth of Columbus, Ohio (May 27); and Kenworth of Richfield, Ohio (May 28).