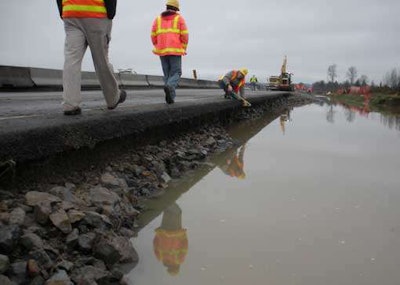 The U.S. Department of Transportation is making $1 million in emergency relief funds immediately available to Connecticut to repair bridges damaged by flooding after heavy rains on March 29 and 30.
"The extreme flooding in Connecticut this spring significantly damaged two bridges and many roads," U.S. Transportation Secretary Ray LaHood says. "Providing emergency relief like this will help the state move forward with repairs while it continues with damage assessments."
The $1 million will help Connecticut replace the two-lane bridge over Whiteford's Brook in Stonington, which was destroyed by floodwaters caused by heavy rains in late March. The funds also will help to reinforce underwater supports weakened by "scour," or soil erosion caused by fast-moving waters, for a two-lane bridge on Route 1 in New London. An estimated 6,000 drivers rely on the two bridges every day.
"These 'quick release' funds will ensure that Connecticut can start working on these important projects immediately," says Federal Highway Administrator Victor Mendez. "Our mission is to help the state get these bridges and roads fixed so life in these communities can get back to normal."
FHWA's emergency relief program provides funds to states for the repair or reconstruction of federal-aid highways damaged by natural disasters or catastrophic events.