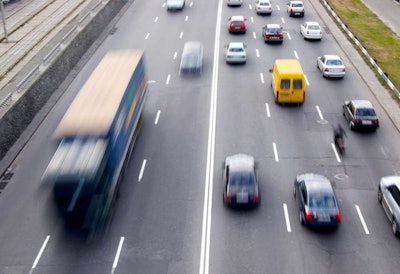 A new technology tool will help transportation planners, operators and private shippers and carriers plan ahead by identifying key traffic chokepoints on some of the nation's busiest roads, the Federal Highway Administration announced Wednesday, May 26.
"We are always looking for new and creative ideas that will enable us to move goods more efficiently, conserve energy, protect the environment and ensure we can compete globally in the 21st century," says U.S. Transportation Secretary Ray LaHood.
"It's all about using innovative technology to save time and money and to boost commerce and the economy," says Federal Highway Administrator Victor Mendez. "Timely and accurate information on freight movement will benefit both government and the private sector in making transportation decisions."
State and local transportation agencies can use the information to prioritize their highway investments to target critical congestion needs; a the same time, businesses and freight companies can use it to time and choose their routes more strategically to avoid congested areas. The new Freight Performance Measures Web-based tool, FPMweb, measures operating speeds for trucks at any given place and point in time along 25 interstate highways that are considered significant freight routes.
Developed through a multiyear FHWA research initiative with the American Transportation Research Institute, a 501 (c) (3) not-for-profit research trust, FPMweb (www.freightperformance.org) is an effort to capture information on truck travel speeds from across the country through onboard GPS and satellite technology. Low speeds reflect congestion levels at a particular location and time of day.