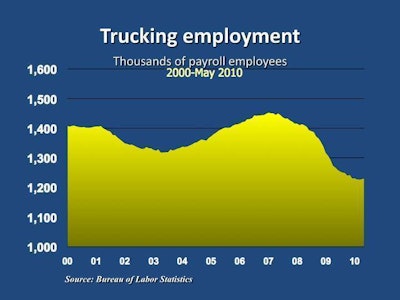 With strong gains in April and May, the trucking industry virtually has erased previous job losses for the year. According to preliminary figures released Friday, June 4, by the U.S. Department of Labor's Bureau of Labor Statistics, the for-hire trucking industry added 2,000 jobs in May over April. Meanwhile, BLS revised its earlier estimate of April trucking jobs upward by 2,600. Those gains offset a 4,200-job loss in February and a much smaller loss in March.
Trucking employment in May was down 36,800, or 2.9 percent, from May 2009. Preliminary data shows payroll employment of more than 1.231 million jobs – down 222,100, or 15.3 percent, from the trucking employment peak in January 2007.
The BLS numbers reflect all payroll employment in for-hire trucking, but they don't include trucking-related jobs in other industries, such as a truck driver for a private fleet. Nor do the numbers reflect the total amount of hiring since they only include new jobs, not replacements for existing positions.
Nationwide, the economy gained 431,000 non-farm payroll jobs in May, according to preliminary BLS numbers. But the private sector added only 41,000 jobs. Government jobs rose by 390,000 on a net basis, primarily due to the hiring of 411,000 temporary workers for the 2010 Census.