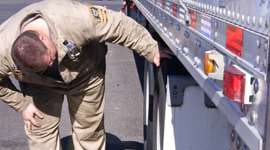 The Commercial Vehicle Safety Alliance has scheduled its annual Roadcheck event for Tuesday, June 8-Thursday, June 10. Roadcheck is a 72-hour event in which an estimated 10,000 inspectors set up more than 1,500 checkpoints on highways across the United States, Canada and Mexico to monitor truck safety compliance.
To kick off the event, the American Trucking Associations will join representatives from the Federal Motor Carrier Safety Administration, state enforcement agencies and other safety organizations at an international press conference on Tuesday, June 8, at 10 a.m. ET at Fed Ex Field in Landover, Md.
"ATA has supported CVSA's annual Roadcheck since its inception and has worked cooperatively with CVSA to determine emphasis areas," says Rob Abbott, ATA vice president of Safety Policy Rob Abbott said. "Roadcheck is a very beneficial program since it spotlights the importance of roadside enforcement and focuses limited state and local resources on unsafe operators. ATA looks forward to this year's Roadcheck results, which we anticipate will reflect the industry's improved safety record, as they have consistently done in years past."
Last year, the vehicle compliance rate of 80.4 percent was the highest since 1996, CVSA said. The driver compliance rate of 95.7 percent was the highest ever.