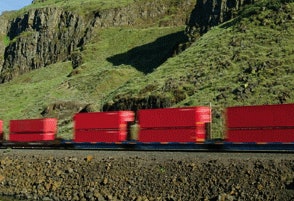 The Intermodal Association of North America announced that it has launched the IANA Driver Vehicle Inspection Report Processing System. The system assists motor carriers, intermodal equipment providers, facility operators and maintenance and repair vendors with regulatory compliance and identification of defective equipment.
DVIR reporting by motor carriers to IEPs is required beginning June 30 as defined in Sections 396.11-12 of the final "Roadability" regulations. IANA's DVIR Processing System supports IEPs that have registered with the Global Intermodal Equipment Registry and authorized IANA to process equipment condition reports on their behalf.
The system allows IANA to receive driver, or motor carrier-supplied, equipment information collected by multiple methods, including IANA's DVIR Web Portal, EDI, telephone via interactive voice response system, XML, CSV or fixed file format data transfer.
IANA has created interfaces between GIER, IANA's Intermodal Driver Database and the Uniform Intermodal Interchange and Facilities Access Agreement database in order to provide efficient and secure access to the data required for DVIR completion. The process also includes provisions for an electronic driver's signature, eliminating paper processes.
Motor carriers, IEPs, facility operators and maintenance and repair vendors may register for IANA DVIR processing services by visiting www.dvir.intermodal.org. Beginning on June 9, IANA will conduct a series of DVIR processing webinars; go to www.dvir.intermodal.org for registration information.
IEPs also can visit www.gierregistry.com to submit unregistered equipment for identification the GIER system. DVIR delivery to the IEP is dependent on GIER registration. GIER registration also will fulfill the equipment marking provisions of the regulation.