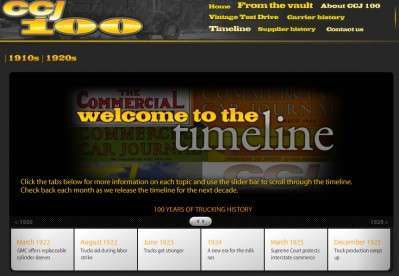 The 1920s was an important decade in the trucking industry as trucks proved their potential for long-haul applications in lieu of railroads. By the end of the decade, six-cylinder engines were becoming the norm and truck OEMs and suppliers were making strides in technology that put truck speeds at 50 mph.
Visit CCJ100.com to:
View the timeline to see historical events that helped shape our industry during the decade.
Read a ride-and-drive review of a 1925 Ford Model TT delivery van.
Follow our "From the Vault" blog to learn interesting facts and oddities about our great industry during the period, straight from the pages of CCJ's archives.
Visit the "Carrier History" and "Supplier History" pages and share your company's history and achievements.
Be sure to check out CCJ magazine and read "Retrospective", a print companion piece to CCJ100.com.